Smart Dubai Office Wins The Herman Miller Living Office Awards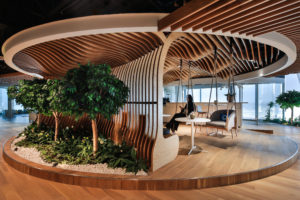 The notion that design inadvertently shapes the future is so important when considering workplace design. The purpose of the office is changing and work-spaces today are no longer simply places where people go to work. A modern workplace like the dwp designed Smart Dubai Office, can offer a means for employers to attract and retain top talent by differentiating themselves from the corporate crowd. It's typical these days to find offices that are more sustainable, collaborative, fun and functional. Employers are understanding more and more that a happy working environment, leads to happy workers, increased productivity and ultimately an improved bottom line. The drive for 'cool' offices, initially sparked by trendy tech giants such as Google, has led many companies to explore how harnessing innovative design to increase face-face collaboration, can boost creativity and, ultimately, grow their business. Companies more than ever consider office design as a key way to shape their future culture.
"Design creates culture. Culture shapes values. Values determine the future." – Robert L. Peters
Two years ago this month, dwp's sustainable workspace design for the Smart Dubai offices located in the United Arab Emirates opened its doors. The Smart Dubai initiative, anchored in the vision of His Highness Sheikh Mohammed bin Rashid Al Maktoum, is to make Dubai the happiest city on earth. As designers, we did our best to harness this culture within our workplace design. Incorporating cutting edge technology with the latest in sustainability measures, the Smart Dubai workplace encourages multidisciplinary collaboration through intelligent space planning, flexible workspaces and beautiful aesthetics. The design showcases health-positive working, collaboration and a sense of belonging; whilst also reflecting the Smart Dubai identity as a progressive smart organisation. The concept took inspiration from the desert winds rippling over sand dunes and was successfully articulated in the ceilings and shared spaces. This approach created organic structures whilst emphasizing movement and fluidity throughout the space. The facility relies predominantly on organic material, such as wood and rope, thus reducing its carbon footprint and perfectly aligning with Smart Dubai's core principle of sustainable, environmentally friendly development.
As a company, we proved that we are not afraid to push boundaries and face new challenges. dwp continually steps into the future with cutting edge collaborative, sustainable and creative design technology and that's exactly the philosophy we incorporated into the Smart Dubai offices. Just last week we celebrated the Smart Dubai office turning 2 years old and in perfect unison won the Outstanding Workspace Design Award at the Herman Miller Middle East & Africa Living Office Awards 2019. Chosen for standing out and genuinely meeting 'the living office' requirement in terms of nature, technology and human well being. The judges were particularly impressed by the creation of engaging 'public' spaces and a strong expression of the companies values.
The Smart Dubai office has proved a perfect example of the famous Robert L. Peters quote; when culture is created through design, values are shaped and the future is written, and in our case, still celebrated 2 years on. Thank you, Herman Miller, for providing a platform that recognizes and awards outstanding design, and Happy 2nd Birthday Smart Dubai, UAE!
Tags: Abu dhabi, Agile workspace, Archi, Architect, Architecture, Artist, Asia, Bangkok, Bar, BIM, Blessing, Blog, Boutique, Business, Civic, Construction, Content, Creativity, Culture, David Clarke, Debate, Design, Designer, Digital, Digital technology, Digital transformation, Digitisation, Drama, Drink, Dubai, Education, Email, Experience, F&B, Food, Future, Health, Healthcare, Hicap, Ho chi minh, Hong kong, Hospital, Hospitality, Hotel, Hotel design, Human, Information, Innovation, Interior, Interior design, Interior designer, Interview, Knowledge, Lebua, Lifestyle, Luxury, Luxury design, Luxury interior, Marriott, Middle east, Mindful, News, Newsletter, Phone, Profile, Profit, Psychology, Residential, Restaurant, Romance, Saigon, School, Signage, Sky, Smartphone, Smartphones, Social media, Social psychology, Sport + Leisure, Studio, Success, Sustainibility, Tech, Technology, Thailand, Trends, Video, Vietnam, W hotel, Wayfinding, Wellbeing, Women