Collaboration is the secret to award winning design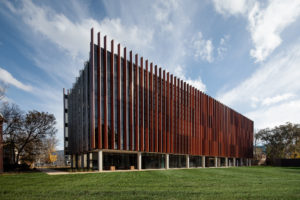 It takes a lot of people to create an award winning building. dwp led the design of the Australian National University's (ANU) Hanna Neumann building in conjunction with our ACT based collaboration partner Clarke Keller; using dwp's open design process and cloud based tools. This allows us to engage each stakeholder at every level of the design and construction process. Here is how we did it:
Open design process
Communication is the heart of the process. Ongoing design workshops with both key stakeholders and a wider user group from the Australian National University, the Mathematical Sciences Institute, Computer Science and the Australian Government ensured everyone was able to contribute.
The workshops opened by testing the business case and continued throughout construction. The design was continuously tested and refined while changes were mutually agreed; ultimately ensuring no surprises for the clients. Clear and open communication enabled participants to make informed decisions; the strong relationships formed kept the project on course through the inevitable diversions. Difficult decisions were made with buy-in from all participants.
Importantly, the workshops enabled dwp to discover the stories and unique culture that underpins the concept for the building; informing the design in both practical and symbolic ways.
Collaboration
Every team member had a specific role in our open design process, ensuring we  worked towards the common goal. The "coded building" concept informed every design decision down to the smallest detail. These decisions were rigorously tested to ensure they followed the overall narrative. After filtering, the key issues could be fed back to the stakeholder workshops, keeping the client informed and involved without overloading them with detail.
Cloud based tools
Internal collaboration between dwp's fully integrated interior design and architecture team, our Canberra partners Clarke Keller and the consultant team was based on open communication with our cloud based tools.  Live documents, real-time changes, and a cloud based Building Information Model (BIM) formed the "single source of truth".  This means the whole project team had access to the most current information, from anywhere, in an instant.
While the aim of this process was to create a building, the purpose was to build a home for its occupants.  dwp's tools and processes brought people together across faculties, disciplines and cities, resulting in a place both for people and of people.  ANU's Hanna Neumann building tells the story of its people, it is a place where the clients are proud of, and a place where both occupants and visitors feel at home.
If you want a place to be proud of, find out how dwp can collaborate with you using our open design process and cloud based tools. Get in touch with Laraine Sperling at laraine.s@dwp.com.
Tags: Abu dhabi, Agile workspace, Archi, Architect, Architecture, Artist, Asia, Bangkok, Bar, BIM, Blessing, Blog, Boutique, Business, Civic, Construction, Content, Creativity, Culture, Debate, Design, Designer, Digital, Digital technology, Digital transformation, Digitisation, Drama, Drink, Dubai, Education, Email, Experience, F&B, Food, Future, Health, Healthcare, Hicap, Ho chi minh, Hong kong, Hospital, Hospitality, Hotel, Hotel design, Human, Information, Innovation, Interior, Interior design, Interior designer, Interview, Knowledge, Lebua, Lifestyle, Luxury, Luxury design, Luxury interior, Marriott, Mindful, News, Newsletter, Phone, Profile, Profit, Psychology, Residential, Restaurant, Romance, Saigon, School, Signage, Sky, Smartphone, Smartphones, Social media, Social psychology, Sport + Leisure, Studio, Success, Sustainibility, Tech, Technology, Thailand, Trends, Video, Vietnam, W hotel, Wayfinding, Wellbeing, Women