What makes a Smart City so smart anyway?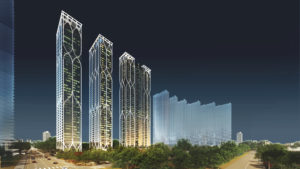 This doesn't sound too smart but, by 2030, it is expected that two-thirds of the world's population will be living in mega-cities. And, according to a U.N. report, by then urban sprawl will have a muddy footprint three-times bigger. It does not take much reflection upon the current state of congestion, pollution and dwindling resources to ask: what will life be like? What will be the state of the environment? 
One thing is certain: if we want to not only survive the daily grind, but thrive, humanity needs to get Smart. 
What is a Smart City?
A number of digitally transformative elements common to the concept of a Smart City spring to mind: the internet of things (IoT), AI, electronic sensors, digital interfaces and maybe even Big Brother. But getting Smart is much more than high tech gadgets. It is about using data gathered from that technology to purposefully make better decisions. Smart cities use technology to connect the dots for improved civic management and streamline city operations with the main objective of providing a better quality of life for inhabitants.
The four C's of quality of life in a Smart City
Connectivity
Connectivity is at the heart of all the data collected about everything – from traffic flow to air quality – and what is happening beneath our feet in the mechanical, electrical and plumbing (MEP) systems. Sensors connected to the IoT can efficiently manage assets like transportation systems, power plants, water supply, waste management as well as crime detection. People power is a significant asset too. User generated information from smartphones puts the giving and receiving of information in the hands of millions of members of the community.
Convenience
A Smart City's dots, connected by the IoT, means architects and city planners can design upon evidence. The data evolves constantly with the needs of the community; so the opportunities to develop pathways to better quality of life follow in equal measure. "Big data collection allows for real-time analysis of the way space is used – which then impacts what we design for long term", says dwp Design Director, Angus Rose.
Commute
According to The Mayor website, Smart apps can save commuting time by up to 20% by providing instant access to road conditions and dishing the dirt on the location of parking spots. Better visibility into transport systems means more efficient traffic management and roadworks which improves traffic flow and road safety. Improved transport systems also reduce greenhouse gas emissions. Leading nicely to the final point…
Conservation
From a design perspective, strategic planning based on real data leads to more efficient and effective use of resources and infrastructure. Smart cities.com write:  "Cities are responsible for 70% of energy-related greenhouse gas emissions. According to New Climate Economy research, the adoption of compact, transit-oriented cities could reduce annual greenhouse gas emissions by about 600 million tons of carbon dioxide equivalent by 2030, rising to 1.8 billion tons of carbon dioxide equivalent by 2050—more than twice the annual emissions of Canada."
For Smart and sustainable cities; reducing the CO2 footprint is the main driver. Improving energy efficiency, storage, water management, waste management as well as traffic flow are recurring green themes of Smart Cities.
Smart cities grow by design – as opposed to random urban sprawl. Angus says: "With the data and the tools we use to design there are fundamentally better opportunities for the preservation of the natural environment. The ecological footprint, both physically and in terms of carbon emissions, is smaller. Green belts surrounding urban centres can be preserved and nature allows for greater carbon capture and, importantly, preserves the habitat of birds and animals."
Tangible improvement in quality of life is the result of the synergistic effects of big data and the technological infrastructure of a smart city. The creative exploration of ideas that remains the core of an Architect's craft is the key to unlocking the potential of a city. Angus adds: "Smart cities will enable the increasingly complex collection and management of data which influence design decisions. Architects can then be relied upon to analyse this data and create design opportunities that are best able to leverage existing assets and develop innovative solutions to complex issues."
Digital systems have become as much as part of urban life today as mechanical ones creating higher levels of connectivity, greater convenience, and a better daily commute.
To talk to smart people about how dwp can help you plan for a smarter future, contact angus.r@dwp.com.
Tags: Abu dhabi, Agile workspace, Archi, Architect, Architecture, Artist, Asia, Bangkok, Bar, BIM, Blessing, Blog, Boutique, Business, Civic, Construction, Content, Creativity, Culture, Debate, Design, Designer, Digital, Digital technology, Digital transformation, Digitisation, Drama, Drink, Dubai, Education, Email, Experience, F&B, Food, Future, Health, Healthcare, Hicap, Ho chi minh, Hong kong, Hospital, Hospitality, Hotel, Hotel design, Human, Information, Innovation, Interior, Interior design, Interior designer, Interview, Knowledge, Lebua, Lifestyle, Luxury, Luxury design, Luxury interior, Marriott, Mindful, News, Newsletter, Phone, Profile, Profit, Psychology, Residential, Restaurant, Romance, Saigon, School, Signage, Sky, Smartphone, Smartphones, Social media, Social psychology, Sport + Leisure, Studio, Success, Sustainibility, Tech, Technology, Thailand, Trends, Video, Vietnam, W hotel, Wayfinding, Wellbeing, Women