Why are architects throwing away their pens to save the planet?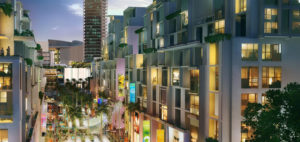 dwp's Regional Managing Director SE Asia, Dr. Saeed Zaki, (architect, urban designer and urban planner) connects the dots between design, technology and sustainability.
What is the future of design?
"For dwp, as global designers and architects, planning is about many things. For our clients, it is about driving design and development while cutting financial and environmental costs through BIM."
What is BIM? (Building Information Modelling).
"BIM – Building Information Modeling –  is a 3D model based process that replaces how architects, designers and construction industry professionals conventionally work. Until recently developments were created with two dimensional drawings; often running into thousands of pieces of papers. BIM is supported by three dimensional digital modelling program that shares information about every aspect of a building. Everyone sees the same information: from the architects to the owner, the engineers, quantity surveyors, site managers and contractors. Buildings and developments are much easier to conceive, more efficient to draw and coordinate. Above all, inefficiency and waste is brought to a minimum. Through BIM all the building information stays available as a resource for future renovations and maintenance.
Does BIM impact Sustainability?
"BIM helps create complex buildings efficiently (high-rise towers, hospitals, hotels and compound mixed-use developments) that have many layers of services and technical complexities. All the building components can be put together in a coordinated way from the beginning of the design process. By minimising changes, variations and therefore material waste, a lot of money is saved during construction. All the moving parts can be drawn together. Potential problems can be clearly seen in advance and all the systems integrated from the onset. BIM allows building components to be prefabricated precisely, which also minimises wastage: a benefit both financially and environmentally. BIM also helps develop construction safety by mitigating risks and accidents."
BIM enables architects and urban designers to not only plan, but manifest, a more connected, leaner and greener world for us all.
To join the conversation or to find out more please don't hesitate to contact kapil.k@dwp.com
Tags: Abu dhabi, Agile workspace, Archi, Architect, Architecture, Artist, Asia, Bangkok, Bar, BIM, Blessing, Blog, Boutique, Business, Civic, Construction, Content, Creativity, Culture, David Clarke, Debate, Design, Designer, Digital, Digital technology, Digital transformation, Digitisation, Drama, Drink, Dubai, Education, Email, Experience, F&B, Food, Future, Health, Healthcare, Hicap, Ho chi minh, Hong kong, Hospital, Hospitality, Hotel, Hotel design, Human, Information, Innovation, Interior, Interior design, Interior designer, Interview, Knowledge, Lebua, Lifestyle, Luxury, Luxury design, Luxury interior, Marriott, Middle east, Mindful, News, Newsletter, Phone, Profile, Profit, Psychology, Residential, Restaurant, Romance, Saigon, School, Signage, Sky, Smartphone, Smartphones, Social media, Social psychology, Sport + Leisure, Studio, Success, Sustainibility, Tech, Technology, Thailand, Trends, Video, Vietnam, W hotel, Wayfinding, Wellbeing, Women