What is the value of heritage when planning urban renewal in Vietnam?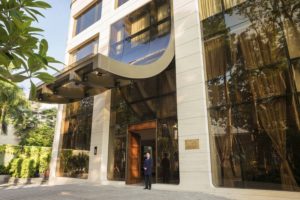 dwp's lifestyle and hospitality architect in Ho Chi Minh City, Trung Nguyen Chon talks about the battle of heritage versus development in one of South East Asia's fastest growing cities.
The creeping reduction of Ho Chi Minh's French heritage architecture is in danger of diminishing the city's unique charms and raises certain questions about both the spirit and livability of the city. Demand for housing and office space is high, but at what cost? What can be done to preserve the heritage of the past while building for the future? Do we need another faceless Asian megacity? 
While it is said that, 'A street without a story has no value,' the young population is hungry for modernity. We ask Trung about dwp Vietnam's perspective
What role do architects and designers in protecting the built heritage of HCMC?
"From a design perspective, cultural context is one of the key elements shaping a strong concept for the client; especially in hospitality. Heritage buildings in HCMC lack the protection that other cities are afforded. The urban planning regulations in place here are loose. They do not identify the 'city's soul' for preservation: key areas or remarkable buildings. Of course, we cannot preserve everything. But I believe it would be helpful if there were interaction with focus groups, held with experts in urban planning, developers, investors, architects and interior designers, to discuss what should be protected (or not)."
How is economic growth weighed against changes that benefit many – but destroys the city's architectural heritage? 
"You can do both. One can complement the other; as is evidenced in many cities around the world. Vietnam's cities still have space to expand. Land that can be developed without destroying heritage buildings. I believe there are always options to develop and enrich new projects with respect to heritage and historical background."
What is the future for heritage buildings in HCMC?
"Action needs to be taken in order to increase the preservation requirements and keep these Asian treasures. The Government is slowly tightening up development regulations. Prior to a project starting; opinions from local residents are now required. These now form part of the application submissions. All these elements help in the journey to keep the Heritage of HCMC safe for the future.
How important is future planning for heritage in HCMC?
"All are crucially important. Vietnam is still in an early economic growth phase. It is maturing and most of the issues come back to value for the investor. Singapore's example shows that the disappearance of the country's built heritage (much was lost) not only resulted in a decline in tourist numbers but also a loss of identity for its citizens. Since then, the government of Singapore has done its best to preserve its heritage. The outstanding success is in the master plan of new developments. Especially surrounding the Marina Bay area." 
Can old buildings be given new uses to help regenerate towns and cities, increase property prices and bring all-round economic development?
"Absolutely. One example of this is Vietnam's Hoi An area, where the historical integrity of the city has remained preserved. Its popularity draws tourists along with attractions such as the beach. Many factors came into place for this to happen, the most critical being local government support and investor's sympathetic approach."
There is no doubt, preserving our heritage has its challenges. But by understanding the benefits of a city's built past, and by adopting a sympathetic approach, both old and new parts of the city are enriched. The Government, investors, experts and the community must work together towards a smarter future.
Contact trung.n@dwp.com to find out more.
Tags: Abu dhabi, Agile workspace, Archi, Architect, Architecture, Artist, Asia, Bangkok, Bar, BIM, Blessing, Blog, Boutique, Business, Civic, Construction, Content, Creativity, Culture, Debate, Design, Designer, Digital, Digital technology, Digital transformation, Digitisation, Drama, Drink, Dubai, Education, Email, Experience, F&B, Food, Future, Health, Healthcare, Hicap, Ho chi minh, Hong kong, Hospital, Hospitality, Hotel, Hotel design, Human, Information, Innovation, Interior, Interior design, Interior designer, Interview, Knowledge, Lebua, Lifestyle, Luxury, Luxury design, Luxury interior, Marriott, Mindful, News, Newsletter, Phone, Profile, Profit, Psychology, Residential, Restaurant, Romance, Saigon, School, Signage, Sky, Smartphone, Smartphones, Social media, Social psychology, Sport + Leisure, Studio, Success, Sustainibility, Tech, Technology, Thailand, Trends, Video, Vietnam, W hotel, Wayfinding, Wellbeing, Women