Three reasons excellent lobby design gives a competitive hotel edge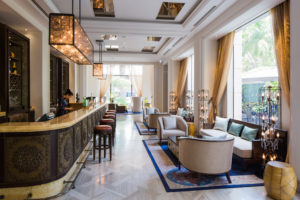 Traditionally, a hotel lobby was the way-station to the room. But- if you get it right – the lobby experience is now a make-or-break opportunity to make an impact, make a statement and of course; make more profit.
First impressions are lasting
It takes just 1/10 of a second – literally the blink of an eye – for humans to form a first impression. You will never get a second chance to make a great one, and in a hotel, that chance happens in the touch-points that lead to – and end in – the lobby.  Justin Wells, Director dwp says: "There are subliminal first impressions. A well designed space creates a buzz, a predetermined thrill, and expectation of excitement and delight. These preconditioning moments start, perhaps from an Instagram or Facebook image, long before arrival. In the lobby, 'surprise' and engagement really matter."
Get the lobby right and guests spend time and money there again and again.
The lobby sets the stage
Great lobby design gives you your first taste of the brand pie. It is tantalising, reassuring and exciting in equal measure. Design touches the emotions, stirs your senses and offers a slice of what is yet to come. It is an expression of innovative planning that transforms a space into a place of welcome and delight for the hotel's target guest.
Is it deliciously grand, or evocative and alluring? Do the doors open with a large smile and a strong aroma of the location? Perhaps the design is quirky, functional and high-tech with self-service check in and a robot behind the desk. dwp's renovation of Novotel Siam Square, Bangkok, for example, includes check-in counters that enhance the guests' experience, access to work desks at the 'Meet n' Work' area with built-in charging stations, and a gourmet bar that offers a unique culinary experience. The Relax n' Play zone includes an interactive sound system and Kids' Corner is equipped with engaging games for family fun. Detailed design attention is paid to all Novotel's guests.
The lobby is the place people want to be
Apart from aesthetics, effective lobby design blends a number of other important elements into the space that add social and economic value. And functionality is key. The design must adapt seamlessly to the needs of guests and hotel staff who are socialising, working and relaxing.
Lobbies are no longer the sole territory of the hotel's in-house guests. Exciting restaurants and bars also become a hub for local passersby to meet, work and play. To partake in a 'daycation' environment. Ian Schrager, the entrepreneur, hotelier and real estate developer associated with co-creating the Boutique Hotel talks about "activated" lobbies with bars that draw in the community hotspots for nightlife and entertainment. A win-win for the community and a hot revenue stream for owners.
For more information on how to make the most of your hotel lobby in every way; contact justin.w@dwp.com
Tags: Abu dhabi, Agile workspace, Archi, Architect, Architecture, Artist, Asia, Bangkok, Bar, BIM, Blessing, Blog, Boutique, Business, Civic, Construction, Content, Creativity, Culture, Debate, Design, Designer, Digital, Digital technology, Digital transformation, Digitisation, Drama, Drink, Dubai, Education, Email, Experience, F&B, Food, Future, Health, Healthcare, Hicap, Ho chi minh, Hong kong, Hospital, Hospitality, Hotel, Hotel design, Human, Information, Innovation, Interior, Interior design, Interior designer, Interview, Knowledge, Lebua, Lifestyle, Luxury, Luxury design, Luxury interior, Marriott, Mindful, News, Newsletter, Phone, Profile, Profit, Psychology, Residential, Restaurant, Romance, Saigon, School, Signage, Sky, Smartphone, Smartphones, Social media, Social psychology, Sport + Leisure, Studio, Success, Sustainibility, Tech, Technology, Thailand, Trends, Video, Vietnam, W hotel, Wayfinding, Wellbeing, Women