Glowfish: a case study in creative coworking design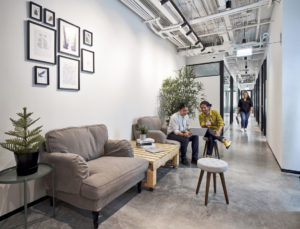 dwp talks to Parin Sarasin, business opportunity manager at Glowfish coworking offices, to find out a bit more about why coworking is so successful and how dwp workspace design is working for Glowfish.
Profitability and popularity of coworking spaces have made a huge impact on the culture of the corporate office. Consequently, collaboration, innovation and flow have become key concepts in not only coworking; but also today's workplace. 
Many companies are noticing the advantages of using coworking rather than committing to traditional offices. Parin explains: "Most tenants are start-ups and most spaces are taken by organisations that operate in small teams. It's flexible and convenient. Companies can be extremely well located for a very reasonable amount of rent. Comparatively, you would have to be far out of town." The rent includes cleaning service, Wifi and all the offices come furnished. "Basically, you can come in and start working. It takes much of the hassle out of moving. The rooms can be rented seasonally and some companies rent on a 'pop up' basis. When they have busier months; they can rent extra rooms for bigger teams. This flexibility is what these companies look for." 
High demand has led to the construction of Glowfish phase II. Designed by dwp, there is a café, a healthy juice bar and contemporary cool offices with great views over Sathorn. The success of the design for Glowfish, and for their clients, comes down to three main elements: collaboration, fluidity and function.
Collaboration
Faye Pongsomboon, Associate Design Director Interior Design, Workplace, dwp says: "With the design we emphasised the collaborative atmosphere. There are many different industries sharing the same space so we wanted to create an ambience of celebrating differences." Parin adds: "It works very well. We have tech companies, e-commerce companies, people from the F&B industry, digital marketing, jewellery designers, an English school and even a chemical lab, where a cosmetics company uses the space as a lab to work out their formulas."
Fluidity
Faye adds: "Everything is planned to be very fluid. Desks are rented yearly, monthly or even daily. So we designed lockers where tenants can leave their belongings with a sense of security. The design is based on a coworking business model that is all about partnership. The tenants using the space, the community also has to be open to creating a healthy atmosphere where people are willing to share, to collaborate." Parin adds their main marketing strategy is word of mouth.  "It is important that the design is right because if our product is the best it can be; it will speak for itself. The focus is quite Thai. Not only the physical space; but also psychological space."  
Function
Parin says: "What dwp did very well was to incorporate the Glowfish mindset: forward-thinking, collaboration, flexibility, function and interaction. They pulled it all together and gave it a strong Glowfish identity." (…) say that a lot was accomplished with large windows, host desks bathed in natural light and maximizing space for efficiency. Paron adds: "dwp blended two complex and converse concepts extremely well. The internal offices are places where everyone is concentrating and focused, where people want to be productive. But when they step outside there is automatically a different feeling: home, fun and relaxation. People from different companies mingle and mix. It is a nice balance between traditional offices and the modern feel of coworking space." 
Glowfish is not trying to be the bigger or better at everything but they certainly want to do their best. Parin says: "Our perfect tenant is open minded, sharing, with a sense of togetherness.  Like-minded professionals who have a sense of respect and responsibility and know how to work well together." 
If you would like to know more about how to create a corporate coworking environment with collaboration, innovation and flow contact nichary.p@dwp.com or piyanut.k@dwp.com or come visit our Bangkok offices to see how we created flow for ourselves!
Tags: Abu dhabi, Agile workspace, Archi, Architect, Architecture, Artist, Asia, Bangkok, Bar, BIM, Blessing, Blog, Boutique, Business, Civic, Construction, Content, Creativity, Culture, Debate, Design, Designer, Digital, Digital technology, Digital transformation, Digitisation, Drama, Drink, Dubai, Education, Email, Experience, F&B, Food, Future, Health, Healthcare, Hicap, Ho chi minh, Hong kong, Hospital, Hospitality, Hotel, Hotel design, Human, Information, Innovation, Interior, Interior design, Interior designer, Interview, Knowledge, Lebua, Lifestyle, Luxury, Luxury design, Luxury interior, Marriott, Mindful, News, Newsletter, Phone, Profile, Profit, Psychology, Residential, Restaurant, Romance, Saigon, School, Signage, Sky, Smartphone, Smartphones, Social media, Social psychology, Sport + Leisure, Studio, Success, Sustainibility, Tech, Technology, Thailand, Trends, Video, Vietnam, W hotel, Wayfinding, Wellbeing, Women