Bronze for Bamrungmuang Hospital: WIN Awards 2019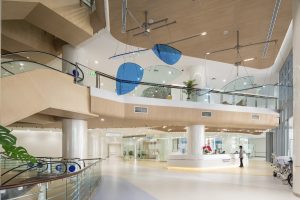 The World Interiors News Awards: 2 awards for dwp!
Each year, the World Interiors News Awards (WIN Awards) welcomes entries from Interior Designers, Architects and Product Designers from across the globe. On the 24th October this year's results were revealed and dwp are very proud to announce that we won 2 awards! One of the awards awarded to dwp was a Bronze Award within the Healthcare and Well-Being Category for our Interior & Architecture design of the Thonburi-Bamrungmuang Hospital, Bangkok. 
To find out more about how our design positively impacts healthcare & wellness at the Thonburi-Bamrungmuang Hospital, dwp spoke to Healthcare Sector leader Ron Bridgefoot:
What were the client's objectives for the Thonburi-Bamrungmuang Hospital?
The creation of a wellness centre, a centre of excellence, a leader in personalized healthcare and bringing each person the finest health services that are based on embracing excellent international standards for high quality service and efficient operations and safety.
What was the key emphasis in terms of design? 
The Thonburi Bamrungmuang Hospital is a rejuvenation of an old shopping complex and the design focused on rejuvenation for the creation of a wellness centre. The rejuvenation of the existing built environment and creation of key strategies included:
– Creation of new identity, an uplifting inspiring and welcoming external architecture that reflects rejuvenation that is founded around the concept of DNA or Human Gene sequencing and dynamic movements.
– Rejuvenation of the interior environment that ensures clarity and legibility thus enhancing personal orientation, comfort and a sense of hope in an inspirational and uplifting environment
– Embodying excellence in place making within a wellness centre and hospital that integrates activities health, wellness, destination and quality retail, restaurants and food courts.  
– Focusing on the creation of patient focused environments and quality workspaces that creates an efficient health services delivery that optimises the available resources to maximise safety, comfort and care.
The utilization of the latest technology and advanced medical equipment coupled with a team of world renowned doctors and specialist that delivers a "state of the art" diagnostic program that ensures a fully personalized treatment is delivered to best suit each individual's needs.
Did new technologies such as BIM, 3D Planning and Virtual Reality play a significant role in the design of the Thonburi-Bamrungmuang Hospital? If yes please explain.
Communication and collaboration is key to our design philosophy. Our Revit BIM Model was an essential component to the creation of the Thonburi Bamrungmuang Hospital to ensure our clients, key stakeholders, consultants and team all understood the existing environment, opportunities and challenges. It shaped how the various options, configurations, arrangements and connections could be improved, fully realized and understood.
3D planning and imagery was an essential approach so that each area, its connections and materiality were fully realized and understood by all. This allowed the client to have clarity on their work flows and processes to ensure operational optimization.
How does the design impact and improve the overall health and well-being of patients?
The design is focused on the concept of wellness. It provides the catalyst – a place of excellence, that allows clients to have conscious, self-directed and fully understood medical processes that enable each individual to achieve their full potential. 
The design is a creation of an uplifting, inviting and comfortable environment where clients are in control and understand the journey and processes and thus movements through the facility. This sense of control with the latest technology and best professional staff, ensures a streamlined journey for all.  
Does the design support efficient workflow and teamwork, and promote a positive professional atmosphere for the professionals?
dwp created various internal scenarios for each clinical area that is based on having an efficient workflow in alignment with an efficient client-focused journey. The clinical streams and pathways were fundamental in the creation of the wellness center and ensures that each person's role and the process is fully understood. Clarity of the process, each person's role and responsibilities ensures services optimization with the resultant effect on improved client-focused care. 
In your opinion what makes this hospital design an exceptional environment?
The design creates a destination and from client arrival to departure at the Thonburi Bamrungmuang Hospital it is a calming environment with clarity in orientation, place and sense of openness. This reduces stress for the clients and improves communications for all involved in medical interventions. 
The central access circulation and entrance with its spatial connectedness provides visual excellence to all areas and creates a focal point for all visitors. Improved use of natural light and quality finishes creates a fresh and welcoming space for all.
The evidence based design principles of integrated artworks, culture, lighting sculpture and finishes enhance the quality and beauty of the space. The central access escalators and stairs are an integral part of this art and place making strategy. 
Could the design be easily convertible and adaptive to future changes if required? Would this cause more than minimum disruption to existing operations?
Due to the fact that the Thonburi Bamrungmuang Hospital is the rejuvenation of an old shopping complex, it could easily be converted to its former center, a hotel or another type of commercial facility. The generous floor to floor heights allow for multiple uses and could also easily accommodate future Medical Research Labs and/ or an educational center.
Was Sustainability an emphasis in this design? 
Sustainability is a fundamental design principle and value for dwp. The redevelopment is an adaptive re-use of a built infrastructure and building, which is a fundamental intent of sustainability.  The Thonburi Bamrungmuang Hospital is thus a rejuvenation of an existing building and environment that aligns with recycling on a large scale and improving health and wellness.
Is the design highly integrated with smart technology?
The Thonburi Bamrungmuang Hospital is a people-centric building – it is flexible, it has the latest and most advanced technologies embedded in the building seamlessly, it is founded on sustainability and creates a space for learning and advancement which are key characteristics of a smart building. 
What are the current key trends for healthcare & wellness design in Asia? Are these similar or different to other parts of the world? 
Medical tourism is a key component that is shaping Healthcare in Asia. It is driving the need to maximize smart technologies, evidenced based medicine and improved patient journeys and processes. Some examples are:
– A more efficient, patient centered care along with the utilization of the latest specialist medical technologies and interventional suites targeted to each specialty is being realized in Asia.
– Hospitals embrace the concepts of wellness which focus on creating quality environments to all and ensure patient safety and satisfaction. Timeliness and treatment processes are fully developed, understood and communicated and thus quicker than in other countries.
– Creation of sustainable environments that embody behavior design strategies and integrate landscapes, natural daylight and place making is everywhere.
– The hospitals are high quality environments that align with hospitality principles in terms of service, quality of the architecture, interiors and place making. Excellence in architecture design and creating quality built environment and community is prioritized in Asia. 
– Excellence in service delivery and timeliness is aligned with excellence in access to Specialists. This is coupled with fewer steps in the process of resolving medical issues and obtaining specialist advice, diagnostics and procedural interventions in a more timely manner.
– Wellness integrates all streams of medicine and thus clients have options within facilities with alternative medicines to the norm.
The application of the design strategies and services strategies of Asia if utilized in other countries could improve their outcomes for all, reduce the cost of healthcare and create improved sustainable environments, whilst providing excellence in place making and the community.
For more information on the Thonburi-Bamrungmuang Hospital or healthcare design by dwp contact ron.b@dwp.com.
Tags: Abu dhabi, Agile workspace, Archi, Architect, Architecture, Artist, Asia, Bangkok, Bar, BIM, Blessing, Blog, Boutique, Business, Civic, Construction, Content, Creativity, Culture, Debate, Design, Designer, Digital, Digital technology, Digital transformation, Digitisation, Drama, Drink, Dubai, Education, Email, Experience, F&B, Food, Future, Health, Healthcare, Hicap, Ho chi minh, Hong kong, Hospital, Hospitality, Hotel, Hotel design, Human, Information, Innovation, Interior, Interior design, Interior designer, Interview, Knowledge, Lebua, Lifestyle, Luxury, Luxury design, Luxury interior, Marriott, Mindful, News, Newsletter, Phone, Profile, Profit, Psychology, Residential, Restaurant, Romance, Saigon, School, Signage, Sky, Smartphone, Smartphones, Social media, Social psychology, Sport + Leisure, Studio, Success, Sustainibility, Tech, Technology, Thailand, Trends, Video, Vietnam, W hotel, Wayfinding, Wellbeing, Women