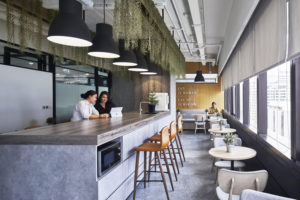 Flexible office space, including coworking space, incubators and other short-term space options has grown at an annual rate of 23 percent since 2010 and it is predicted that by 2030, 30% of all office space is expected to be let on short-term or flexible leases.
With the current COVID-19 pandemic driving us all to work remotely this trend may accelerate. Inevitably, owners of real estate assets will be forced to adapt realizing that they will have to provide for the new requirements of a global workforce that is driven by digitally transformed technology, cloud applications, artificial intelligence and improved wireless ways of working.
Today's workplace
In recent years companies have begun to transform working modes with cloud systems, online meeting platforms and new innovative ways of digital working, a transformative shift that is now only being magnified by the current global situation. To survive, companies are quite literally forced to think out of the box. With government measures enforcing employees to move out of the office and into their homes, businesses have no choice but to learn ways to manage their workload remotely and stay on top of their game from any location. Whilst this may be a temporary measure, the result of adapting to a fully remote culture is likely to be felt in the long term.
Over the course of the next few months the world will witness over a billion people working remotely via virtual 'huddle' rooms and online community spaces. Group work and discussion will continue, targets will be met and remote working will be proven a viable and efficient way of working in many cases.
As you read this you are very likely working remotely from the comfort of your home, a cup of coffee in hand, potentially wearing casual attire with just a quick fix of hair and makeup. Maybe you have an upcoming 'huddle' meet with your co-workers but otherwise communication is flowing via a multitude of digital platforms. Daily or weekly meetings are being held remotely to manage workload and targets are set and met. There are possibly some distractions in the home environment but all in all you are coming to terms with a new—more flexible—way of business. The acceptance of coworking is going to be a complete revolution in the management of office space and demand. Our isolation spaces of now may be a short term fix but the long term benefits are likely to be realized.
Tomorrow's workplace
Now fast forward a couple of months and employees may be dissatisfied when back to the old 9 – 5 routine, battling traffic on both their commute to and from work. Working in isolation will have offered people the chance to experiment and become more ambitious to realise their dreams of the remote and coworking culture. Businesses that have survived could well be facing a world-wide economic recession. Global real estates experts JLL and CBRE expect the market for flexible space in the US will grow significantly over the next decade, even in the event of a recession. Bearing in mind the use of coworking space reduces the requirements for costly long-term leases and avails more capital for organic growth investments, compensation or acquisitions it makes sense that adapting to this way of working could well save a number business during a recession.
On top of this, coworking space is going to become more attractive because it combines the practicalities of traditional offices with the amenities and comforts of the home or hospitality environment. These spaces turn into communities that promote comfort as well as productivity. Coworking spaces are quite literally a convergence between office and hospitality. In addition to shared conference rooms, WiFi and tech support they are environments that promote health and wellness with places for people to digitally detox, exercise, socialize and make healthy food choices.
One thing it is likely that we will learn from this self-isolation period is that physical connection between humans is still vital for ideas, inspiration and overall well-being. Humans will always need to come together as a community and coworking spaces will allow this connection to happen in curated, end user driven environments. In short, the use of coworking space is likely to become more desired, prominent, and increasingly permanent. By default hotel lobbies, office lobbies, cafes, parks and local bars will continue to become the unofficiated co-working spaces where people can gather without the formality of an office. Many businesses will question the need for investment in traditional offices where a flexible space may offer reduced cost and improved productivity.
At dwp we believe that the workplace of the future will be flexible, mobile and running on the cloud and that the experiences of 2020 will profoundly change the way we work, organise our business space and interact together.
dwp's design studios in the Middle East, Asia and Australia, are already working in fully agile, wireless environments using digital design tools and cloud-based applications that facilitate real-time co-working across multiple locations. Using experience based learning, dwp designs spaces that naturally adapt to our evolving coworking lifestyle. Our spaces are designed to ignite creativity with optimal use of space, a variety of 'working' points all imbued with AI and wireless, digital technology. dwp's competitive advantage is understanding the end user requirements whilst aligning coworking culture with digital transformation.
Download our coworking lifestyle portfolio or contact scott.w@dwp.com to find out how dwp can revolutionize the culture of your workplace.
Tags: Abu dhabi, Agile workspace, Archi, Architect, Architecture, Artist, Asia, Bangkok, Bar, BIM, Blessing, Blog, Boutique, Business, Civic, Construction, Content, Creativity, Culture, Debate, Design, Designer, Digital, Digital technology, Digital transformation, Digitisation, Drama, Drink, Dubai, Education, Email, Experience, F&B, Food, Future, Health, Healthcare, Hicap, Ho chi minh, Hong kong, Hospital, Hospitality, Hotel, Hotel design, Human, Information, Innovation, Interior, Interior design, Interior designer, Interview, Knowledge, Lebua, Lifestyle, Luxury, Luxury design, Luxury interior, Marriott, Mindful, News, Newsletter, Phone, Profile, Profit, Psychology, Residential, Restaurant, Romance, Saigon, School, Signage, Sky, Smartphone, Smartphones, Social media, Social psychology, Sport + Leisure, Studio, Success, Sustainibility, Tech, Technology, Thailand, Trends, Video, Vietnam, W hotel, Wayfinding, Wellbeing, Women