Shrewsbury International School Bangkok – Designing learning environments for the future generations
The Shrewsbury International school in Bangkok was opened in 2003. The school curriculum and ethos is based on over 450 years of Shrewsbury pedagogical heritage from the UK. With an inspiring purpose-built school building on the banks of the Chao Phraya River in Bangkok, Shrewsbury International school has quickly become one of the leading international schools in Thailand, setting a benchmark for international education provision.
The school has expanded with a growing student population and increased demand, the school continues to offer pupils the highest quality facilities through renovations and additions to the school grounds, enabling students to achieve the best of their ability and compete on international standards.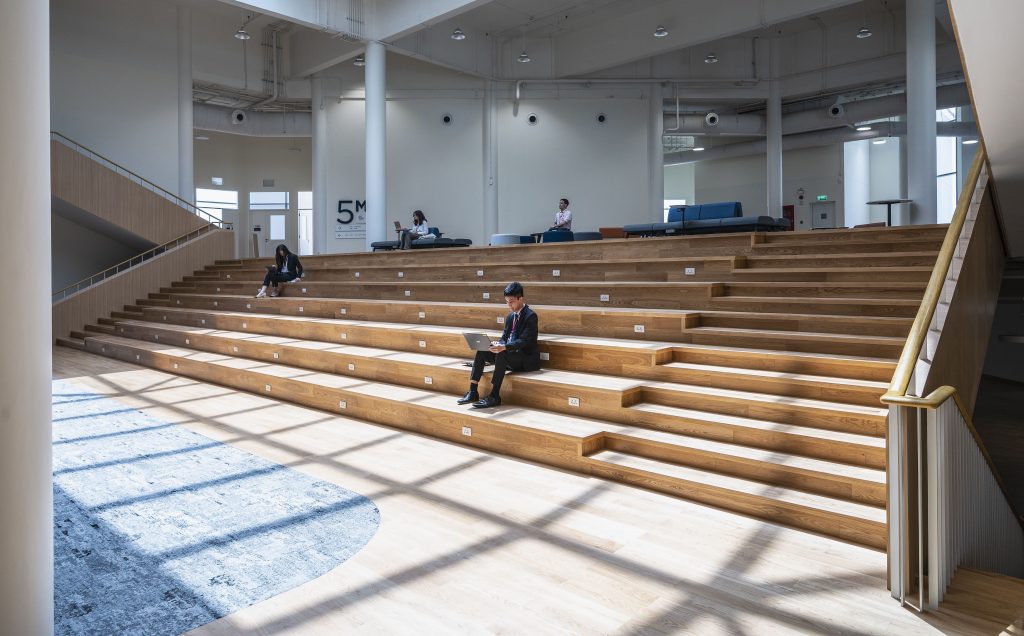 dwp | design worldwide partnership recently collaborated in the design of the new senior school at the riverside location, a 1.1 billion Thai baht project that has dramatically increased the provision for Science, Mathematics, Computing, Innovation, Robotics, Sixth-Form, Higher Education Counselling, Dining and Sport. Dwp worked in partnership with lead architect Robert Philip Holmes of City Realty Company Ltd. and other consultants including MEP Design Consultant, PU Associates Co.,Ltd., to achieve a successful outcome for the Shrewsbury community.
The facilities are housed within the Sir David Lees Innovation Centre, incorporating the multi level 4000sqm Stephen Holroyd Sixth Form Commons and a Sports Performance Complex which includes a 340sqm peerless Strength and Conditioning Zone designed for professional athletes.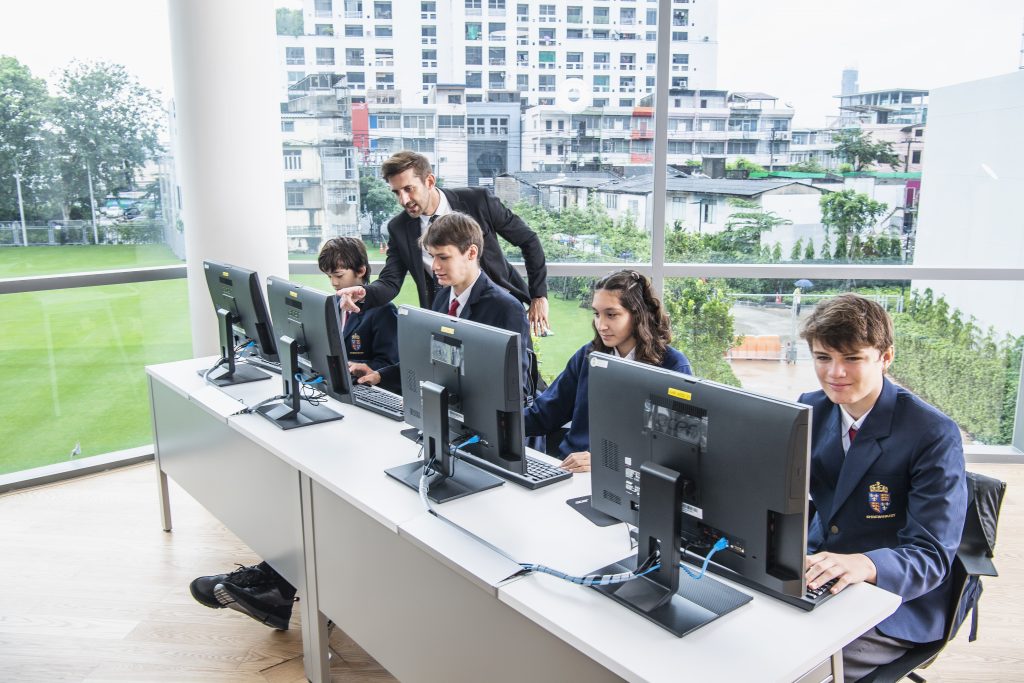 To support the already strong achievements in the faculties of mathematics and science, the design included sixteen new mathematics classrooms and 18 university-standard laboratories.
Our specialist dwp education design team delivered school facilities that are open, bright and motivating spaces created to offer the Shrewsbury school community an ideal environment to both collaborate and when appropriate to work autonomously. This is based on many years of experience for the dwp team in creating learning environments.
In addition to the student and staff facilities, dwp designed the new school reception area and school shop. As the first point of contact for many visitors, parents and students alike, the reception area needed to be welcoming and legible, with a contemporary flexible workplace for staff, while embodying the identity of the school. dwp implemented clear zoning of public and restricted areas for child safety purposes. The overall design includes bright open spaces, clean lines, neutral colours the use of light timber with blue accents strategically placed throughout the space.
Tags: Abu dhabi, Agile workspace, Archi, Architect, Architecture, Artist, Asia, Bangkok, Bar, BIM, Blessing, Blog, Boutique, Business, Civic, Construction, Content, Creativity, Culture, Debate, Design, Designer, Digital, Digital technology, Digital transformation, Digitisation, Drama, Drink, Dubai, Education, Email, Experience, F&B, Food, Future, Health, Healthcare, Hicap, Ho chi minh, Hong kong, Hospital, Hospitality, Hotel, Hotel design, Human, Information, Innovation, Interior, Interior design, Interior designer, Interview, Knowledge, Lebua, Lifestyle, Luxury, Luxury design, Luxury interior, Marriott, Mindful, News, Newsletter, Phone, Profile, Profit, Psychology, Residential, Restaurant, Romance, Saigon, School, Signage, Sky, Smartphone, Smartphones, Social media, Social psychology, Sport + Leisure, Studio, Success, Sustainibility, Tech, Technology, Thailand, Trends, Video, Vietnam, W hotel, Wayfinding, Wellbeing, Women