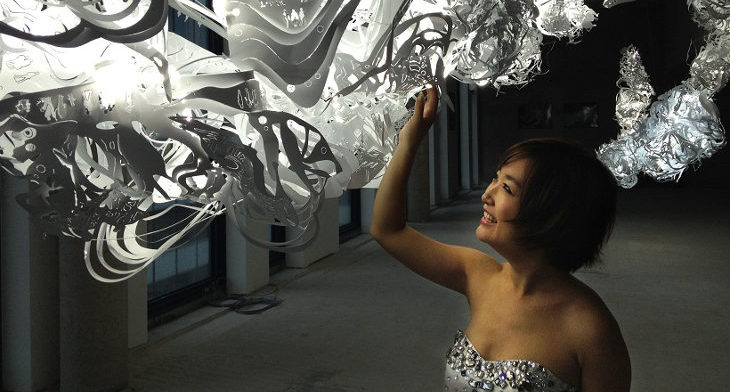 "Art transforms the environment. We create art.
We live in art. Art is everyday." Jordy Fu.
dwp|signature collections are collaborations with acclaimed architects and interior designers.
Jordy Fu is a world renowned architect, interior designer, fashion designer and artist.  
Jordy first felt the creative spark when she was a little girl. She exhibited at the Beijing Capital Museum at six years old and published her first book at the grand old age of seven. Already an accomplished artist, she eventually studied design and architecture in London, where she lived for many years. She has since added fashion design to her creative palate. One of life's seemingly random crossroad-encounters led her into the path of Brenton Mauriello, CEO of global architecture firm, dwp.
What is creativity?
"Creativity is not only an expression of the artist or designer but something that connects emotions, creates love and makes life better. Creativity comes from inside. If people find it difficult to create it is because they don't see or don't want to feel. I believe creativity has no boundaries. So I practice architecture, interior design, art, fashion and product design. They are just different media. This journey is part of my personal growth. I want to keep challenging myself."
What is the secret to creating something that has an emotional response?
"Creating something represents a dream. Something unique. Something you feel excited about. Something sensual you want to hug, kiss and fall in love with. Of course it has to make the users and client of the project feel comfortable and relaxed with the objects and the space."
What inspires you?
"Everything. If you open your eyes inspiration is everywhere. Life inspires me. I look at things I love. When we're designing hotels, I look at the surroundings. If it's near the sea, the building is inspired by the sea, waves or nature. If we're doing a specific project for a client, it's inspired by the client's brand. Their personality and image. Every project is very different."
Who has inspired you the most in your life?
"When I was a child, Picasso and Matisse and Van Gogh because I was interested in colour. And then when I grew up, Herzog, Murray, and Sejima. Now I'm a little older, I inspire myself. Once you have developed your own style, it comes naturally and you don't need to look so much to other people. You can look within and it comes."
What advice would you give an artist or architect to improve themselves or their work?
"Don't give up. I think we are born with creativity. During the journey you can get lost. Somebody might say: 'Your idea is terrible', 'We cannot do this,' or 'There is no budget or time'. If you believe or get used to that, you give up. You have to adjust. Maybe next time someone else will see it and be excited. So just keep going. Don't lose your dreams."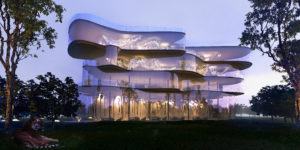 Tags: Abu dhabi, Agile workspace, Archi, Architect, Architecture, Artist, Asia, Bangkok, Bar, BIM, Blessing, Blog, Boutique, Business, Civic, Construction, Content, Creativity, Culture, David Clarke, Debate, Design, Designer, Digital, Digital technology, Digital transformation, Digitisation, Drama, Drink, Dubai, Education, Email, Experience, F&B, Food, Future, Health, Healthcare, Hicap, Ho chi minh, Hong kong, Hospital, Hospitality, Hotel, Hotel design, Human, Information, Innovation, Interior, Interior design, Interior designer, Interview, Knowledge, Lebua, Lifestyle, Luxury, Luxury design, Luxury interior, Marriott, Middle east, Mindful, News, Newsletter, Phone, Profile, Profit, Psychology, Residential, Restaurant, Romance, Saigon, School, Signage, Sky, Smartphone, Smartphones, Social media, Social psychology, Sport + Leisure, Studio, Success, Sustainibility, Tech, Technology, Thailand, Trends, Video, Vietnam, W hotel, Wayfinding, Wellbeing, Women