dwp wins Sustainable Interior Design Initiative for Smart Dubai
We are thrilled to announce that we've just won the Sustainable Interior Design Initiative of the Year at the CID Awards 2017 for our work with on the Smart Dubai office. The judges notes how the project led to LEED Gold Certification and how sustainability is actually achieved, from the site handling to execution.
They also commended the workmanship in the fit-out and the process that took the Smart Dubai Office to completion.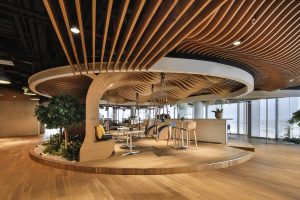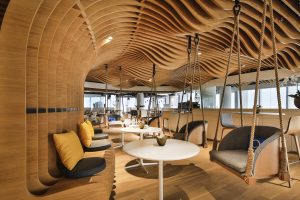 Our senior interior designer Nadine Abedzadeh said of the project, 'From concept, we thought about sustainability. Our approach started with material selection – everything we used was recycled. It even went as far as when we were looking at MEP and the way in which we have lighting control and chimers to make sure the lights were only used when needed in the night-time, so it's all really about energy saving."
Smart Dubai spends each day coming up with initiatives to make Dubai the happiest city on earth. dwp wanted to give them the happiest workplace from which to do it. We're incredibly proud that we've achieved this and been recognised for our sustainability prowess at the same time with this award.
Tags: Abu dhabi, Agile workspace, Archi, Architect, Architecture, Artist, Asia, Bangkok, Bar, BIM, Blessing, Blog, Boutique, Business, Civic, Construction, Content, Creativity, Culture, David Clarke, Debate, Design, Designer, Digital, Digital technology, Digital transformation, Digitisation, Drama, Drink, Dubai, Education, Email, Experience, F&B, Food, Future, Health, Healthcare, Hicap, Ho chi minh, Hong kong, Hospital, Hospitality, Hotel, Hotel design, Human, Information, Innovation, Interior, Interior design, Interior designer, Interview, Knowledge, Lebua, Lifestyle, Luxury, Luxury design, Luxury interior, Marriott, Middle east, Mindful, News, Newsletter, Phone, Profile, Profit, Psychology, Residential, Restaurant, Romance, Saigon, School, Signage, Sky, Smartphone, Smartphones, Social media, Social psychology, Sport + Leisure, Studio, Success, Sustainibility, Tech, Technology, Thailand, Trends, Video, Vietnam, W hotel, Wayfinding, Wellbeing, Women