Be whoever you want to be at Lebua No.3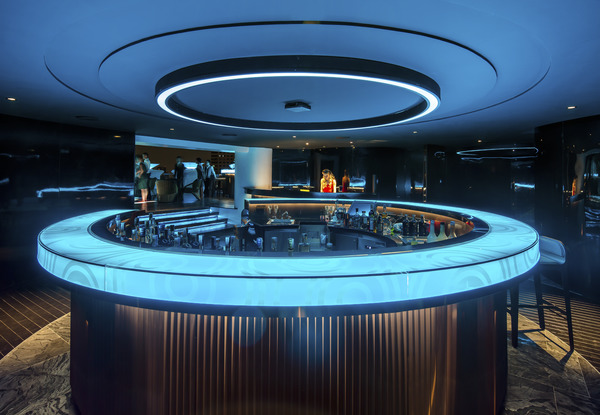 Adding to the all-star line up of unmissable Thai experiences at Lebua, is Bangkok's recently opened, vertiginous, Lebua No.3.
Part of the existing stable of "must visit' venues at Lebau's State Tower, dwp designed the world's tallest Gin, Caviar & Vodka Bar with a pinpoint focus on a younger dynamic global guest. Accessorised in laser blue, piano black and copper, the high-tech chic venue offers dance-stopping views of the Chao Phraya River, and city skyline along with cocktails and unforgettable moments.
Deepak Ohri, Lebua's CEO talks a lot about memorable experiences. According to dwp, experiences are always connected to emotion. Designing spaces that surprise and delight with light and colours that conspire to create lasting memories. Scott Whittaker, Group Creative Director for dwp says: "The ubiquitous selfie moment means 'you've done your job well'. You have created that emotional connection. People are protagonists in the theatre. They are happy…" and with more than a million snap-happy selfies taken at Lebua every year the statistics speak for themselves.
Scott explains the design for Lebua No.3 started with a clear idea. A simple, singular thought, 3 circular bars focused around premium white spirits and caviar. Arriving at the bar is a highly emotional experience. Guests descend via a black marble spiral staircase from level 52, and arrive at the first circular bar and DJ booth. They then move outside to the terrace. From a totally black mirrored space there are a further 2 bars which come with incredible views north over the Bangkok night skyline.
The design plays with light, space and sound to create an experience that challenges the senses. The blue lighting was a collaborative effort with a lighting designer, to enhance the design concept around incredible cocktails based on white spirits. This fantastic atmosphere was then coupled with a world first external digital dance floor which plays mesmerizing moving graphics to the music.
The 'secret sauce" to designing experience is creating a space, conjuring an atmosphere, and painting a backdrop in which you can be whoever you want to be… To feel like a red carpet celebrity for the night. dwp's design for Lebua No.3 is the stage which allows them to do just that.
For further information, please contact scott.w@dwp.com or have a look at the hospitality section of our website.
Tags: Abu dhabi, Agile workspace, Archi, Architect, Architecture, Artist, Asia, Bangkok, Bar, BIM, Blessing, Blog, Boutique, Business, Civic, Construction, Content, Creativity, Culture, David Clarke, Debate, Design, Designer, Digital, Digital technology, Digital transformation, Digitisation, Drama, Drink, Dubai, Education, Email, Experience, F&B, Food, Future, Health, Healthcare, Hicap, Ho chi minh, Hong kong, Hospital, Hospitality, Hotel, Hotel design, Human, Information, Innovation, Interior, Interior design, Interior designer, Interview, Knowledge, Lebua, Lifestyle, Luxury, Luxury design, Luxury interior, Marriott, Middle east, Mindful, News, Newsletter, Phone, Profile, Profit, Psychology, Residential, Restaurant, Romance, Saigon, School, Signage, Sky, Smartphone, Smartphones, Social media, Social psychology, Sport + Leisure, Studio, Success, Sustainibility, Tech, Technology, Thailand, Trends, Video, Vietnam, W hotel, Wayfinding, Wellbeing, Women