How to build an icon in the sky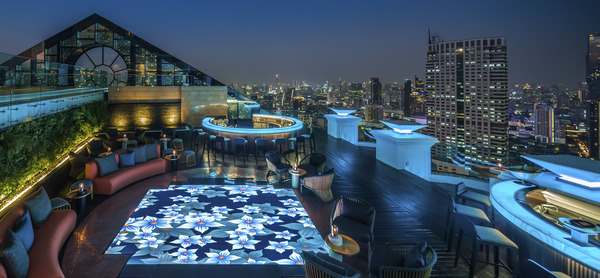 It's a little known fact that two of the major players on the Bangkok business scene actually took some of their first steps onto the stage together.
dwp, global architecture and design firm known for its boundary pushing cutting-edge designs, and Lebua – eternally in 'the best luxury hotels in Bangkok' bracket, known for lavish views, spacious suites, iconic restaurants and rooftop bars – actually stepped out into the bright lights and big time hand in hand.
It all began after the Tom Yum Kung crisis of the 90's. The financial crash left towering skeletal remains of failed developments on Bangkok's skyline. Scott Whitaker, creative director of dwp says: "The new owner of empty and abandoned, State Tower, was looking to redevelop. She saw our website – back in 2003 – and asked us to come in for a meeting. Although now we are known as hospitality specialists, up to that point, we hadn't focused on hospitality or restaurants projects. So it turned out to be a landmark moment for dwp."
Scott met with Deepak Ohri at the top of the derelict State Tower: "He took me out there saying he wanted to make rooftop bars and restaurants. It was a huge space with immense views. I said: 'Okay' and immediately checked into the St Regis. I locked myself in my room for three days to immerse myself in the story of a hotel and to only think design."
"The basics were already there – a grand staircase and a fountain – but not much", he explains. "So, I tried to think about what could be created with that space. A helicopter flew over and I remembered the Fellini film called La Dolce Vita. The similarities to Rome struck me: the Spanish steps and the fountain. The furniture was from a famous restaurant in Venice. So I drew on that too. I said to myself this is a film set."
The rest was about to become history. "The client liked it and said: 'do it'. Deepak was very inspiring. His idea was to have a world class outdoor restaurant and bar. But he let us develop the design concept."
The combined team then all went on a journey of discovery to London. "We visited all the best hotels, restaurants and nightclubs to get ideas and study all the F&B design trends". It wasn't all plain sailing however – Scott adds: "There were a lot of naysayers at the time. I had to go to a meeting with two big competitors (also friends of the owners). They said it was bound to fail. The owner was wasting her time. It should be a spa. But the owner agreed with dwp. I believe because we sold a very emotional design. Deepak talks a lot about experiences. Experiences are always about emotion. Designing unexpected space, colours and light that conspire to create lasting memories."
Creating a theatre in the sky meant unexpected challenges. Getting materials to the 64th floor being the main one. Everything was built first and cut up into chunks to fit into the lift; then re-welded at the top. Scott says: "They ran the lifts from 10:00 PM until 6:00 AM. All the lifts, full of building materials, every night. Even now, that's how it is done." He smiles: "There's a lot of experience behind creating experiences"
Reflecting on dwp's own hospitality journey since 2003 Scott says. "I look back now and think it was a blessing to have approached the design with fresh eyes. With unlimited thinking. Because once you know what the 'rules' are (or how they 'should' be) it runs the risk of becoming formulaic. Now everybody has a rooftop restaurant, but back then, there was nothing like it. It was in all the magazines and everybody copied it."
dwp and Lebua did not set out with a long term goal or vision for each outlet. Scott says: "For Deepak I think it's about business. Increasing the revenue 30% by transforming a dead space into another restaurant. He can tell me in five minutes what the market profile is; but doesn't interfere how it will look. So far we have designed and won awards for, Sirocco, The Chivas Whiskey bar, Flute bar, Breeze, Mezzaluna and Distill Bar. Lebua No.3 has just been completed and the Chef's Table is the next exciting addition. "There is still so much space left to develop. A lot more possibility".
Both dwp and Lebua are luxury brands with their hearts in Thailand. But beyond that the synergy between dwp and Lebua seems to be pioneering spirit. Both buck, rather than follow, trends. Scott says: "Apart from history, which we obviously have, the secret of our successful union is that is every time they have a vision – we are somehow able to interpret it."
Whatever the secret, Bangkok now has a Hangover or two and a lot more stardust because of it.
For further information, please contact scott.w@dwp.com, bill.b@dwp.com or have a look at the hospitality page of our website.
Tags: Abu dhabi, Agile workspace, Archi, Architect, Architecture, Artist, Asia, Bangkok, Bar, BIM, Blessing, Blog, Boutique, Business, Civic, Construction, Content, Creativity, Culture, David Clarke, Debate, Design, Designer, Digital, Digital technology, Digital transformation, Digitisation, Drama, Drink, Dubai, Education, Email, Experience, F&B, Food, Future, Health, Healthcare, Hicap, Ho chi minh, Hong kong, Hospital, Hospitality, Hotel, Hotel design, Human, Information, Innovation, Interior, Interior design, Interior designer, Interview, Knowledge, Lebua, Lifestyle, Luxury, Luxury design, Luxury interior, Marriott, Middle east, Mindful, News, Newsletter, Phone, Profile, Profit, Psychology, Residential, Restaurant, Romance, Saigon, School, Signage, Sky, Smartphone, Smartphones, Social media, Social psychology, Sport + Leisure, Studio, Success, Sustainibility, Tech, Technology, Thailand, Trends, Video, Vietnam, W hotel, Wayfinding, Wellbeing, Women