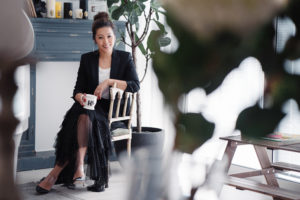 "Trust in what you love. Continue to do it. And it will take you where you need to go."
Born in Australia Kaye is now the Managing Director of dwp|hong kong.
She opened her design firm in 2010 because of a passion for design. She says: "It sounds a bit simplistic but, ultimately, that is the reason. And while I am not a trained architect or interior designer, I see myself as a creative leader, an 'ideator'.The choice of city was a no brainer because my husband Alex, is originally from Hong Kong. We love it. The culture, the people, the energy: there is no city like it. Oh and the food here is absolutely amazing!"
Why did you start you own company?
After the birth of my second child I was in a very vulnerable place. I was juggling the idea of taking time off to raise my young children or jumping right back into work. Eventually I decided to start my own business. The only way to manage my time on my terms.
What do you believe is the secret to creating a great business?
There is no secret formula, otherwise everyone in business would be doing great, wouldn't they? To me, there are a few things that I believe strongly in.  
The people and relationships matter.  
It is important to be authentic and transparent.

Work hard and keep an open mind.
What is the culture of dwp to you? Why does that resonate with you?
Collaborative and forward thinking immediately comes to mind. I believe that great things can happen when you bring together different skills and mindsets. Brenton Mauriello (Group CEO) and Scott Whittaker (Group Creative Director) have been tremendously generous in their support over the past year and we hope that the Hong Kong studio can continue to add value to the group.
How did you connect with dwp?
My business partner, Demon, worked for dwp more than 15 years ago. It was by chance that we were introduced to Brenton at a time that we were both looking for opportunities to expand and grow our footprint in Hong Kong.
What do you hope to achieve?
I hope to continue building up our studio and provide the team with a platform upon which to grow and flourish.  
Tags: Abu dhabi, Agile workspace, Archi, Architect, Architecture, Artist, Asia, Bangkok, Bar, BIM, Blessing, Blog, Boutique, Business, Civic, Construction, Content, Creativity, Culture, David Clarke, Debate, Design, Designer, Digital, Digital technology, Digital transformation, Digitisation, Drama, Drink, Dubai, Education, Email, Experience, F&B, Food, Future, Health, Healthcare, Hicap, Ho chi minh, Hong kong, Hospital, Hospitality, Hotel, Hotel design, Human, Information, Innovation, Interior, Interior design, Interior designer, Interview, Knowledge, Lebua, Lifestyle, Luxury, Luxury design, Luxury interior, Marriott, Middle east, Mindful, News, Newsletter, Phone, Profile, Profit, Psychology, Residential, Restaurant, Romance, Saigon, School, Signage, Sky, Smartphone, Smartphones, Social media, Social psychology, Sport + Leisure, Studio, Success, Sustainibility, Tech, Technology, Thailand, Trends, Video, Vietnam, W hotel, Wayfinding, Wellbeing, Women