dwp gets personal with Kaye Dong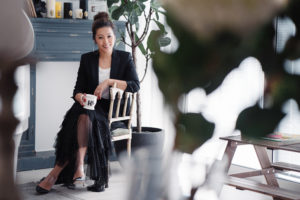 Who are the people of dwp and what are we all about?
Find out more here…
What's the first thing you do when you get out of bed?
This is really bad, but I check my phone.  After I have skimmed through emails and important messages, I will make myself a coffee, turn on some music and get ready for work. My morning routine is really important to me.
Do you sleep with your phone next to you?
Again, this is bad, but yes, I sleep with it next to me. I try to limit my phone usage during mealtime with the kids. It is really hard for me but I am trying!
What gives you energy?
My children and family give me energy.  My chaotic but very happy home consists of my husband of 17 years, two daughters aged 14 and 8, two foster children, aged 15 months and 19 months old, four nannies, two dogs and two cats.  
How do you deal with emails?
So that I can focus and be present at meetings during the day I try to address my emails in the morning and at the end of the day. But this is easier said than done and I often check periodically throughout the day, typically in the car.  
You unexpectedly find 15 minutes in your day, what do you do with it?
I would go home to see my kids, but if that is not possible, then I would read.  I am currently reading "Dare to Lead" by Brené Brown.
When was the last time you felt burned out and why?
Now actually. I have been away on a business trip and am physically tired from the intense schedule. But mostly I am feeling guilty for being away from the kids for 5 days. It is a constant inner struggle as a working mother to balance work and family. I can't help but feel like I am coming up short when it comes to giving enough time and just being enough for my kids. But I know that by choosing to combine motherhood with a career, there are sacrifices and compromises.  There is no 'right way' to raising kids. And I know I need to find peace with my choices and believe that by being happy and pursuing my dreams, I am showing my girls that they are worthy and capable of that too.
When was the last time you felt you failed and how did you overcome it?
When I had a falling out with my first business partner. It was a painful and traumatic experience. I overcame it by staying true and standing strong to my core values. But I am grateful for hitting rock bottom, because without that, I would not have met my current business partner, Demon.
Do you follow 'rules' or break them?
I respect and appreciate that there are rules. But depending on the outcome I am trying to achieve, I like to challenge the status quo. Nothing great is ever achieved by doing things the way they have always been done.  To move from mediocrity to greatness, we must venture out. Challenging the status quo is not always easy and demands an open heart and open mind, but important.
Tags: Abu dhabi, Agile workspace, Archi, Architect, Architecture, Artist, Asia, Bangkok, Bar, BIM, Blessing, Blog, Boutique, Business, Civic, Construction, Content, Creativity, Culture, David Clarke, Debate, Design, Designer, Digital, Digital technology, Digital transformation, Digitisation, Drama, Drink, Dubai, Education, Email, Experience, F&B, Food, Future, Health, Healthcare, Hicap, Ho chi minh, Hong kong, Hospital, Hospitality, Hotel, Hotel design, Human, Information, Innovation, Interior, Interior design, Interior designer, Interview, Knowledge, Lebua, Lifestyle, Luxury, Luxury design, Luxury interior, Marriott, Middle east, Mindful, News, Newsletter, Phone, Profile, Profit, Psychology, Residential, Restaurant, Romance, Saigon, School, Signage, Sky, Smartphone, Smartphones, Social media, Social psychology, Sport + Leisure, Studio, Success, Sustainibility, Tech, Technology, Thailand, Trends, Video, Vietnam, W hotel, Wayfinding, Wellbeing, Women