dwp | design worldwide partnership architects designed the new Next Gen Health Club Doncaster
dwp | design worldwide partnership is delighted to share the first images of the recently completed new Next Gen Health club in Doncaster, Victoria, Australia.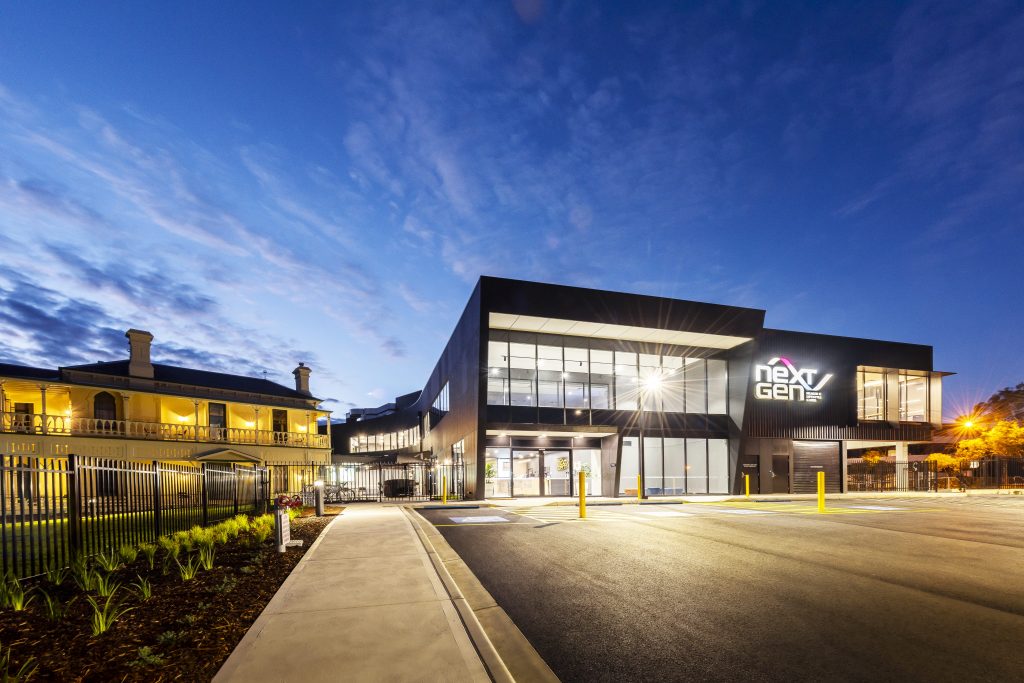 This project is a tale of two buildings on one site, one old, one new, and how dwp architects configured them so that they work together, complimenting each other to create a coherent story. The historic Tullamore homestead had long lost its character and presence in the landscape. While Next Gen, a luxury health and lifestyle health club was looking for a home in Victoria. The site, located in Doncaster offered Next Gen the opportunity to build something exciting on to the rich heritage of the site, creating a new flagship health club focused on holistic approach to fitness, rejuvenation and relaxation.
The Tullamore homestead is immediately identifiable, from the new building. With the restoration of its original features in contrast to the angled building form and restrained material and colour palette of the health club. The new building solidifies its position along the Doncaster road, the walls reaching out, sheltering Tullamore house. Visitors are invited to move around the new health club and experience the site, getting glimpses of Tullamore house and what lies beyond before entering via the oak tree, originally planted with the homestead.
The club offers a variety of fitness and relaxation options for its members. With areas dedicated to get your heart rate up, the club boasts dedicated functional training zones, cutting-edge gym equipment, 4 tennis courts and a full schedule of studio classes. Members are also encouraged to unwind and enjoy extensive aquatic facilities. Including indoor and outdoor heated pools, premium spa, sauna and steam rooms all within a relaxed garden atmosphere with vantage points back towards Tullamore homestead.
The interior design approach by dwp creates a modern country escape, inspired by the elegance of the heritage building. Custom joinery, soft furnishings and warm rich textures create a series of welcoming vibrant social spaces for members and their families. A full service creche is available, while members are encouraged to pause, gather and connect, before and their workout in the in house cafe, restaurant and bar.
The story of the two buildings is now intertwined ensuring their future use and giving them both equal standing on the site.
dwp Studio Director Cameron Martin stated "it has been a privilege for the dwp team to work so closely with Next Gen to create a building that allows visitors to achieve their fitness goals, I congratulate our project design and delivery team led by Ryan Murray architect and Kellie Adler BIM leader. This is a great project outcome for everyone involved."
dwp team : Ryan Murray, Cameron Martin, Kellie Adler
Tags: Abu dhabi, Agile workspace, Archi, Architect, Architecture, Artist, Asia, Bangkok, Bar, BIM, Blessing, Blog, Boutique, Business, Civic, Construction, Content, Creativity, Culture, Debate, Design, Designer, Digital, Digital technology, Digital transformation, Digitisation, Drama, Drink, Dubai, Education, Email, Experience, F&B, Food, Future, Health, Healthcare, Hicap, Ho chi minh, Hong kong, Hospital, Hospitality, Hotel, Hotel design, Human, Information, Innovation, Interior, Interior design, Interior designer, Interview, Knowledge, Lebua, Lifestyle, Luxury, Luxury design, Luxury interior, Marriott, Mindful, News, Newsletter, Phone, Profile, Profit, Psychology, Residential, Restaurant, Romance, Saigon, School, Signage, Sky, Smartphone, Smartphones, Social media, Social psychology, Sport + Leisure, Studio, Success, Sustainibility, Tech, Technology, Thailand, Trends, Video, Vietnam, W hotel, Wayfinding, Wellbeing, Women