Concord Oval Design Excellence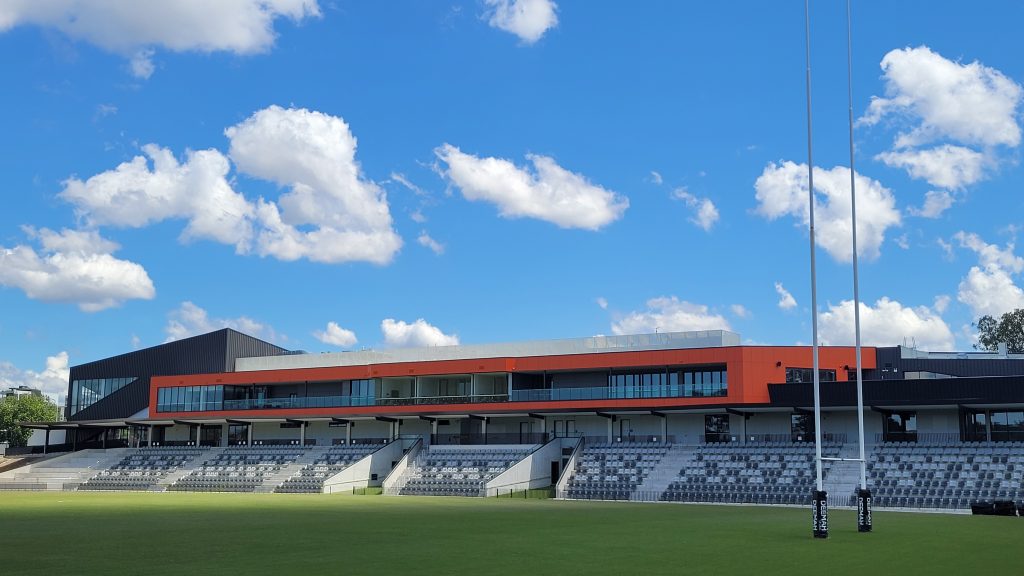 Australia's sporting success over the years has generated national pride and shared identity.
Australian people are passionate about sports and the drive for improvement in athletic performance has seen investment by elite sporting organisations and state governments in recent years. The increasing number of high performance centres provide the facilities to enable athletes to perform to the very best of their abilities. dwp is at the forefront of design thinking and innovation in the architecture of high performance centres and community sports and recreational facilities in Australia.
The dwp designed redevelopment of Concord Oval for the City of Canada Bay NSW and Wests Tigers Rugby League Football Club is the latest sports high performance centre to receive recognition for its high quality design and facilities.
The Concord Oval was initially developed in 1985 as a match venue for the 1987 Rugby World Cup. The upgrade included the construction of the Eastern & Western grandstands incorporating training and spectator facilities. These facilities provided a valuable and much loved community resource for 35 years but needed a refresh in the last few years. The redevelopment has a greater range of facilities to support contemporary sports and recreation requirements and the population growth within the region. The City of Canada Bay council was determined to deliver a new facility that provides passive recreation opportunities as much as organised sporting activities.
In 2018 Wests Tigers Rugby League Football Club set out to create the Centre of Excellence at the Concord Oval, a multi million dollar development funded by NSW state and Australian federal governments and the local council. During this time City of Canada Bay Council engaged dwp as lead architect for the redevelopment.
The work included the demolition of all existing buildings with a new structure on the Western and Northern sides of the oval for community and professional sports organisations. The high performance facility for Wests Tigers includes training gym, sports science and medicine facilities, aquatic recovery, player amenities, auditorium and meeting rooms, club lounge and function spaces, club administration rooms and a cafe as part of the upgrade.
dwp's sustainable design approach to the Concord Oval includes passive design features, end-use water efficiency, a PV renewable energy system with battery, high efficiency lighting controls system and rainwater harvesting.
Recently completed and now in use, the redeveloped Concord Oval is receiving an immense amount of publicity for the high quality state of the art facilities. dwp Sydney studio director Ivana Simkovic was recently featured in Architecture and Design and shared insight into the design process. To read the article click here link: https://www.architectureanddesign.com.au/news/the-rise-and-rise-of-high-performances-centres#
Tags: Abu dhabi, Agile workspace, Archi, Architect, Architecture, Artist, Asia, Bangkok, Bar, BIM, Blessing, Blog, Boutique, Business, Civic, Construction, Content, Creativity, Culture, David Clarke, Debate, Design, Designer, Digital, Digital technology, Digital transformation, Digitisation, Drama, Drink, Dubai, Education, Email, Experience, F&B, Food, Future, Health, Healthcare, Hicap, Ho chi minh, Hong kong, Hospital, Hospitality, Hotel, Hotel design, Human, Information, Innovation, Interior, Interior design, Interior designer, Interview, Knowledge, Lebua, Lifestyle, Luxury, Luxury design, Luxury interior, Marriott, Middle east, Mindful, News, Newsletter, Phone, Profile, Profit, Psychology, Residential, Restaurant, Romance, Saigon, School, Signage, Sky, Smartphone, Smartphones, Social media, Social psychology, Sport + Leisure, Studio, Success, Sustainibility, Tech, Technology, Thailand, Trends, Video, Vietnam, W hotel, Wayfinding, Wellbeing, Women