Excellence in Sustainable Design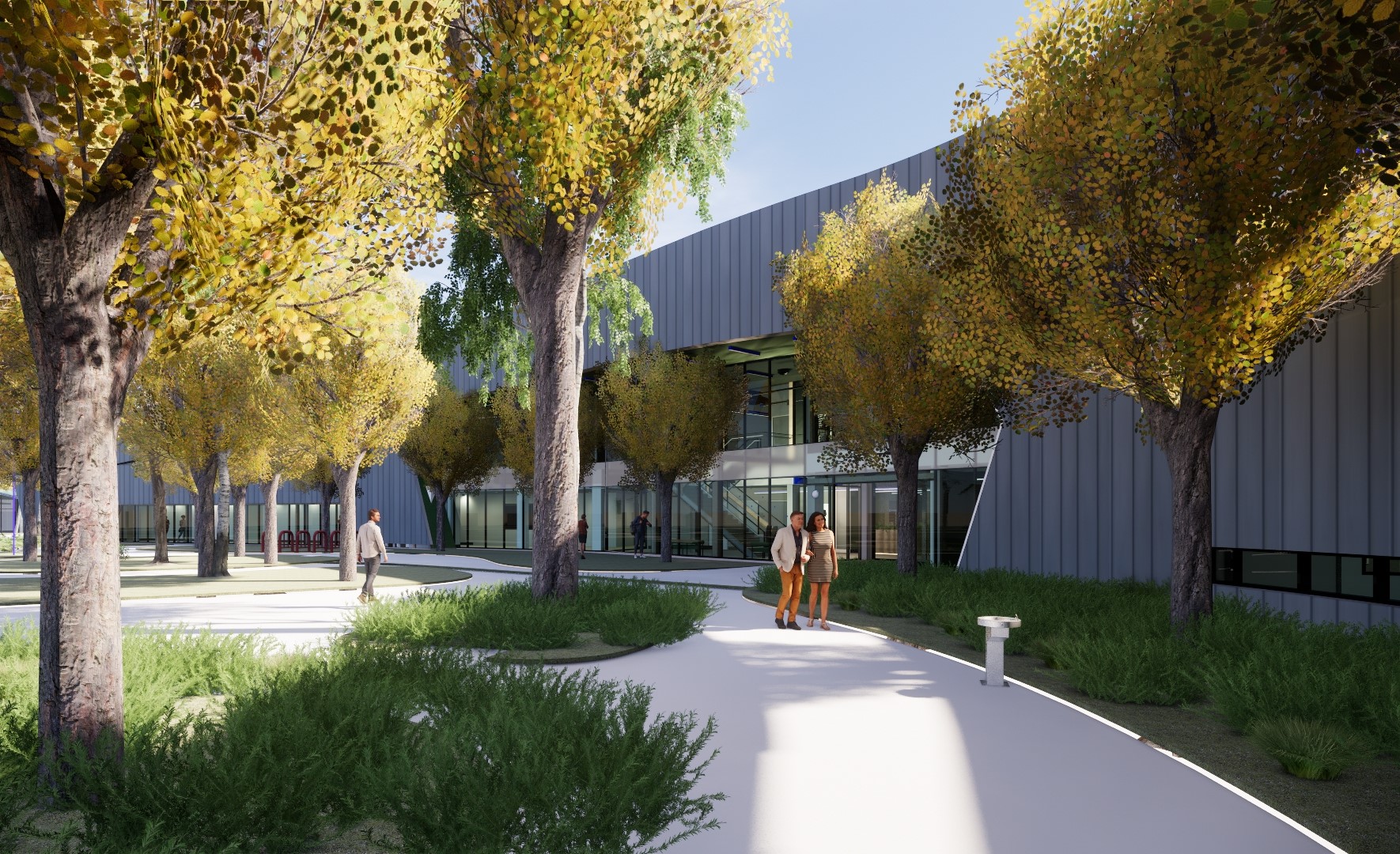 dwp|Melbourne studio is delighted to announce that our project, Northern Aquatic and Community Hub for the City of Greater Geelong has been awarded 5 Star Green Star – Design & As Built v1.2, Design Review Certified Rating, which represents Australian Excellence in Sustainable design. The project is the first indoor aquatic centre ever to be awarded this accreditation.
In 2015, the City of Greater Geelong (CoGG) endorsed the Northern Aquatic and Community Hub Master Plan for the existing Council Waterworld site in the suburb of Norlane. The vision of the Masterplan was to create a vibrant community hub as a significant destination for leisure, recreation, cultural and community wellbeing activities. The Northern Aquatic and Community Hub project team is undertaking extensive community consultation and incorporating best practice urban design principles to realise a unique precinct that will contribute to people's health, happiness and well-being.
Melbourne dwp studio director Melissa Malik said "it's fantastic for our design team to contribute such a significant new community facility that plays an important role in the ongoing cultural and civic renaissance of Geelong".
The key of the sustainability strategy for Northern Aquatic Projects
Energy strategies
– High-performance building envelope, including a high level of insulation, high-performance glazing and reduced thermal bridging, beyond codes requirements
– Airtightness targeting 5m3/hr/m2 at 50Pa
– Efficient mechanical systems
– OpenDynamic ventilation control system
– 100% outside air in the pool halls
– LED lights with natural light integration
– 80kW PV system producing total energy generation of 112,300 kWh per year.
– Reduction of Greenhouse gas in comparison to similar buildings
– Peak electricity demand reduction
Water strategies
– Water-efficient pool equipment, fittings and fixtures
– An integrated water cycle strategy that includes rainwater harvesting & backwash pool water reuse
– A minimum of 80% of fire test water to be captured
– Isolation valves provided to each floor of the building to enable separate maintenance
– Buried drip irrigation to be provided to all landscaping
– Rainwater harvesting tank to provide for pool makeup, toilet flushing, irrigation and showering
– Reduced backwashing requirements due to the usage of Ultrafine filtration system.
– Native plants have been included in the landscaping design (crop factor <0.6)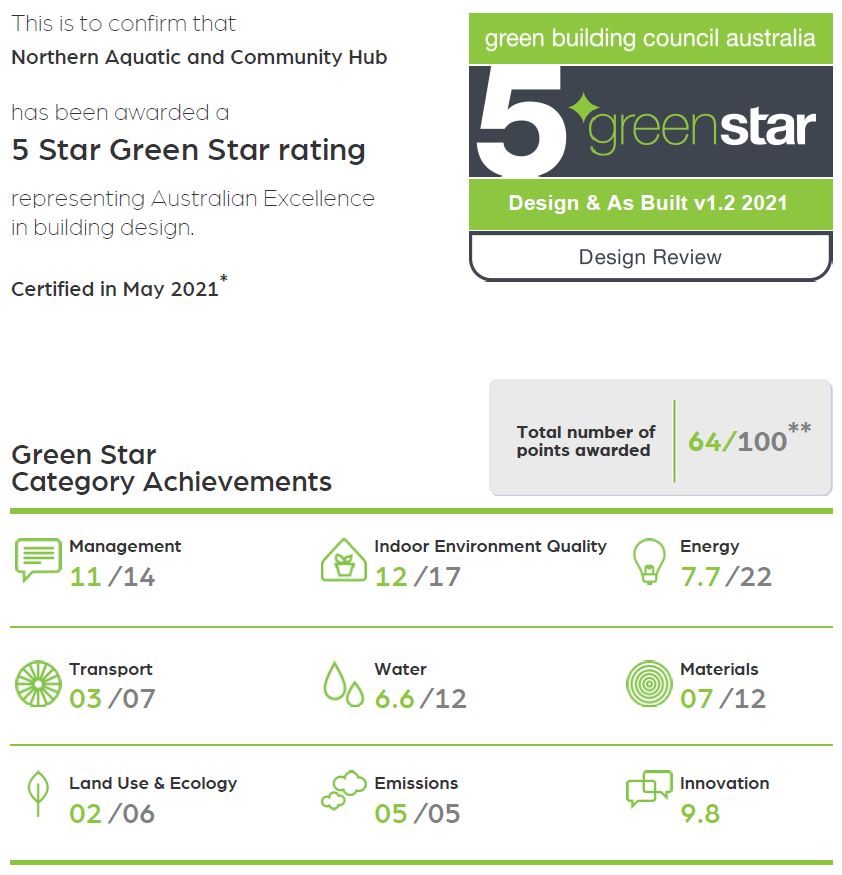 dwp environmental design capability is beyond typical architectural firms and we evaluate all our new projects to mitigate environmental risks. Our in-house sustainability team is well equipped with proven knowledge in various sustainability systems including Green Star, LEED, WELL, Passivhaus and Living Building Challenge.
We are committed to creating positive environmental impacts through our responsible and innovative design. In 2015, dwp designed the Echuca Regional Health Hospital Redevelopment with one of Australia's largest solar thermal cooling installations; and in 2017, dwp delivered the 6 Star Green Star Western Sydney University Science Building, setting new standards in Australian construction. To preserve operational energy, we utilize a high-performance building envelope, including a high level of insulation, high-performance glazing systems, incredible building airtightness and minimal thermal bridging as our first line of defense. We use high-performance systems such as heat-pump technology, LED fittings with natural light integration, water-efficient fixtures and comprehensive sub-metering to facilitate monitoring and management of utilities. We apply an integrated water cycle strategy that includes rainwater and stormwater harvesting.
Our design process considers the whole life cycle of the building, from material extractions to the end of life to reduce construction and operation waste. We consider the needs of today and the future. The health of the community is encouraged through our design with comfort and health in mind, we have a high level of indoor environment quality including daylight, acoustic, natural air supply, low VOC/Formaldehyde materials. We design buildings to celebrate a healthy and active lifestyle, diversity and equality.
Project team
Client: City of Greater Geelong, Project Manager: Kristyn Aquilina
Architects: dwp | design worldwide partnership, Project Architect: Shanica Saenrak Hall
ESD and Building Services Engineers: WSP, Project Leaders: Swapna Govindaraju and Mark Szekely
Structural, Civil Aquatic Engineers: Crackerjack Consulting Engineers, Project Leader: Gurpreet Singh
Landscape Architects: Land Design Partnership, Project Leader: Leslie Mohr
Tags: Abu dhabi, Agile workspace, Archi, Architect, Architecture, Artist, Asia, Bangkok, Bar, BIM, Blessing, Blog, Boutique, Business, Civic, Construction, Content, Creativity, Culture, Debate, Design, Designer, Digital, Digital technology, Digital transformation, Digitisation, Drama, Drink, Dubai, Education, Email, Experience, F&B, Food, Future, Health, Healthcare, Hicap, Ho chi minh, Hong kong, Hospital, Hospitality, Hotel, Hotel design, Human, Information, Innovation, Interior, Interior design, Interior designer, Interview, Knowledge, Lebua, Lifestyle, Luxury, Luxury design, Luxury interior, Marriott, Mindful, News, Newsletter, Phone, Profile, Profit, Psychology, Residential, Restaurant, Romance, Saigon, School, Signage, Sky, Smartphone, Smartphones, Social media, Social psychology, Sport + Leisure, Studio, Success, Sustainibility, Tech, Technology, Thailand, Trends, Video, Vietnam, W hotel, Wayfinding, Wellbeing, Women