For a happier future the only way is up
By midway through this century, more than two-thirds of the world's population will live in cities. According to the United Nations, our global metropolises will be home to another 2.5 billion people by 2050. Where will all these people live? Clearly, the only way is up.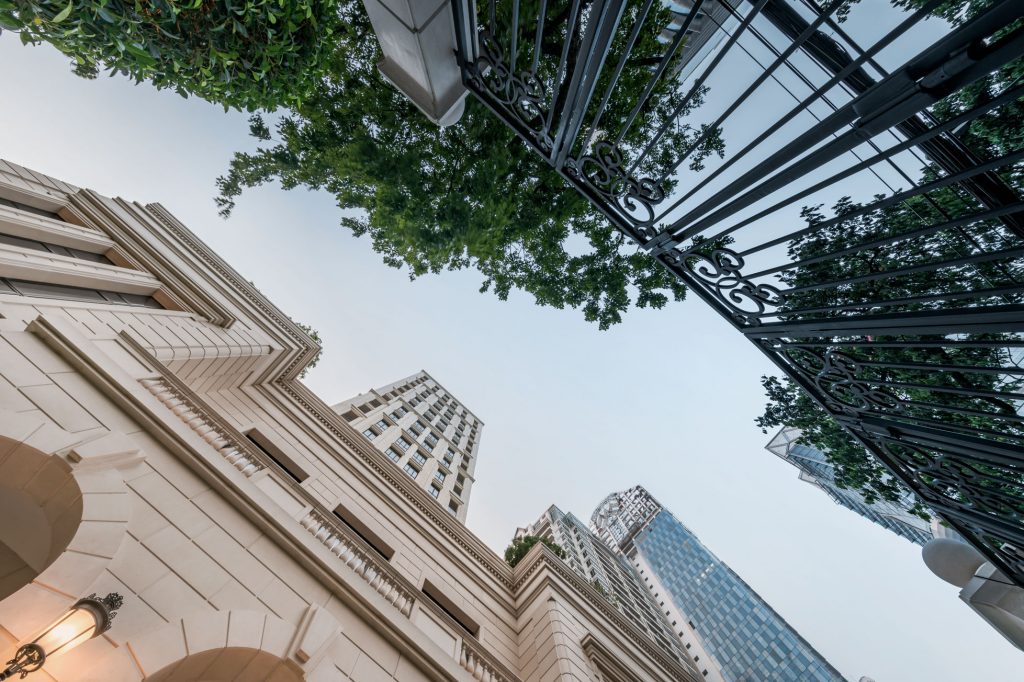 While undoubtedly population growth presents some serious challenges, there is also an enormous opportunity for us to build places where people feel happier, healthier, more valued, inspired and connected.
By using design to create experiences that people truly enjoy, vertical living can bring with it a quality of life that those of us accustomed to suburban low-rise living can rarely attain. What's more, vertical living can be a social solution to support people of all ages.
Take 98 Wireless Bangkok. This luxury condominium opened its doors last year in the Thai capital, a city expected to accommodate 10 million people by 2030. Located on tree-lined Wireless Road, Bangkok's most prestigious boulevard, homes in this 25-storey tower are priced up to two times other luxury residences. The Beaux Arts-inspired building, home to 77 residential apartments, recently won the Luxury Residential Category at the International Design & Architecture Awards.
"The Best Comes As Standard" is the philosophy behind client Sansiri's approach, and dwp's architectural and interior design. This is not just about location and quality. It's about cultivating a sense of community too.
Community is carefully curated through the building's special services – such as a concierge and butler service, and limousine Bentley service on call for short shopping trips – through to the design of the shared spaces. The grand tea and wine lounge, with comfortable couches for relaxing, and tables for playing Bridge for example, plays host to complementary weekly afternoon teas.
Residents have access to a library, swimming pool and jacuzzi, a fitness studio, spa and massage room, all of which offer exceptional amenity. In comparison, the apartments are modest in size – because residents don't need their own dining room if they can book the building's facility on a whim.
The secret to 98 Wireless Bangkok is simple. By creating a vertical village, and maximising economies of scale, the residents gain access to amenities far beyond what most people could ever afford on their own. The vertical village concept applies the same philosophy as activity-based working. By trading off personal space, the shared space can work harder and deliver much, much more. 98 Wireless Bangkok represents a new breed of activity-based living.
While not everyone can afford to live in a luxury building like 98 Wireless Bangkok, we can apply similar design solutions to accommodate our growing urban populations and create places where people feel connected. This is most obviously the case when it comes to helping people to age gracefully.
As the number of people aged 60 and over doubles – rising to 2.1 billion by 2050 – we are faced with one of the most significant social challenges of our era. China alone is expected to age more rapidly than almost any other country in recent history. The UN estimates the number of people over 65 could rise from around 100 million in 2005 to 330 million in 2050. This is roughly the population of the United States, or twice the current population of Russia. Again, the solution may be found in sending our buildings skyward.
Consider Rathdowne Place in Melbourne. The design of this vertical retirement village supports positive ageing, enhances community connections, and fulfils owner Australian Unity's promise of being "better together". As senior advisor on the project, dwp provided input into planning and design. Australian Unity emphasises the relationship between residents and staff, and the design reflects that people-centred approach. For example, by trading additional height in return for public space, dwp's design team created spaces that attract everyone – young and old – to be part of the community. This project not only normalises ageing, but addresses the social isolation that often comes with age.
At Rathdowne Place, older people aren't put in rows of small boxes and kept out of sight. Instead, they are fully engaged in society through a design that encourages interaction. Lobby lounges face straight onto the street, for example, while the village café is a popular spot with locals of all ages. A whole floor of the building is dedicated to holistic health, and everyone in the community can access the hydrotherapy facilities, the chapel and rooftop terraces.
In an era where our cities are getting larger, and land is getting more valuable, vertical living can support 'ageing in place'. Rather than pushing our senior citizens to a city's fringes, vertical living is a way to keep older people front-and-centre.
The bottom line is clear. Our cities are growing and ageing at a rate unprecedented in all of human history. As the number of cities with one million plus residents surpasses 80, low-rise living at a large scale is no longer an option. But we can diminish social isolation and build social connectedness through human-centered, high rise design. A future that is healthier, happier and more connected awaits – and it's found by looking to the sky.
Why not get in touch with our team at dwp to explore how we can work together  – http://dwp.com/profile/contacts-and-locations/
Tags: Abu dhabi, Agile workspace, Archi, Architect, Architecture, Artist, Asia, Bangkok, Bar, BIM, Blessing, Blog, Boutique, Business, Civic, Construction, Content, Creativity, Culture, David Clarke, Debate, Design, Designer, Digital, Digital technology, Digital transformation, Digitisation, Drama, Drink, Dubai, Education, Email, Experience, F&B, Food, Future, Health, Healthcare, Hicap, Ho chi minh, Hong kong, Hospital, Hospitality, Hotel, Hotel design, Human, Information, Innovation, Interior, Interior design, Interior designer, Interview, Knowledge, Lebua, Lifestyle, Luxury, Luxury design, Luxury interior, Marriott, Middle east, Mindful, News, Newsletter, Phone, Profile, Profit, Psychology, Residential, Restaurant, Romance, Saigon, School, Signage, Sky, Smartphone, Smartphones, Social media, Social psychology, Sport + Leisure, Studio, Success, Sustainibility, Tech, Technology, Thailand, Trends, Video, Vietnam, W hotel, Wayfinding, Wellbeing, Women