What do emotions, experiences and luxury have in common?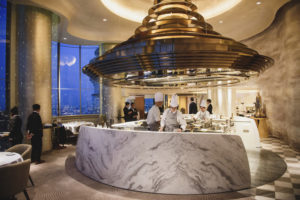 We talk to two experts in Southeast Asian hospitality. Deepak Ohri, CEO of five star luxury brand, lebua. And pioneer of cutting edge luxury hospitality design, Scott Whittaker, Creative Director of dwp.  
"We know that luxury does not mean one thing to all. However, it's clear that in mature markets, luxury has evolved to become increasingly bound up in experiences rather than things. One key trend driving the future of luxury travel is the shift in values from the material to the experiential – rather than saving up to buy luxurious possessions, people are choosing to spend their money on experiences."
AMADEUS Report. Shaping the Future of Luxury Travel | Future Traveller Tribes 2030
Luxury is different for everyone.
But one thing we can all agree on is that ideas about luxury travel have changed. People still want comfort, culture, and adventure but how they want to have these experiences is evolving. Well heeled travellers want highly personalised experiences tailored to their individual tastes.
lebua has been at the forefront of the Southeast Asian luxury travel scene for 25 years. Starting with the, now iconic, Sirocco and SkyBar. Deepak Says: "In Asia the business model is upside down. Food and beverage is risky business. But if you want to do something you find a way. We created the lebua hotel brand out of food and beverage; not the other way around. The truth is that we didn't want to create a 'restaurant', per se. And we didn't set out to create a hotel. Our objective was to create an experience. Consequently, to this day, our portfolio is different to big hotel chains; which are much more predictable."
LUXURY EXPERIENCES
Deepak says: "Luxury should always be equated with experience because experience stays with you longer. Experience is formed from emotional connection which usually involves an element of surprise." At lebua those experiences are created and managed by a host of unique designs and lebua-only encounters and flavours. "lebua is not about innovation. It is about improvisation and we are very proud of creating our own people and our own experiences. But we improvise and work with other luxury brands." Chivas Regal created a blend of Scotch Whiskey that can only be enjoyed at dwp designed, Alfresco 64. And the same holds true for Perrier Jouet at Flute Bar and Rare Champagne, which can only be enjoyed by the glass in Thailand at Pink Bar. Scott Whittaker says: "Designing luxury is about creating space and comfort combined with an emotional experience. There is always a place for the signature restaurant or award winning design, but truly luxurious places are where you feel comfortable, at home and want to come back. You will soon tire of an iconic chair if it's not comfortable."
The single ventilation hood that was key in creating lebua's latest restaurant, Chef's Table, where the food is prepared in the restaurant, is an example of the confluence of luxury, function and experience. Deepak says: "This is how we use technology – not with robots and automatic check ins – it's not about what people can see. It's about what they experience."We use UV ultra lite sensors to completely eliminate food smells from the air. When you go home you will wonder why your clothes don't smell."
Scott says: "I try to create a story for each design that can be told simply and that defines the entire concept. Once we both embrace that story the design will come to shape. In the case of lebua, a vertical destination, with so many different projects under one roof, the unifying factors are the manipulation of light and space and function. That's always the most interesting place to be: at the edge of the sea, a verandah or rooftop bar. In a nutshell – space plus light, great materials and finishes. Hospitality design is often like a stage set where you can live out a moment of your life in a special place that alters your mood. Your surroundings play a big part in creating emotion." And emotion, as we now know is the foundation stone to luxury experience.
For more information, please contact scott.w@dwp.com
Tags: Abu dhabi, Agile workspace, Archi, Architect, Architecture, Artist, Asia, Bangkok, Bar, BIM, Blessing, Blog, Boutique, Business, Civic, Construction, Content, Creativity, Culture, David Clarke, Debate, Design, Designer, Digital, Digital technology, Digital transformation, Digitisation, Drama, Drink, Dubai, Education, Email, Experience, F&B, Food, Future, Health, Healthcare, Hicap, Ho chi minh, Hong kong, Hospital, Hospitality, Hotel, Hotel design, Human, Information, Innovation, Interior, Interior design, Interior designer, Interview, Knowledge, Lebua, Lifestyle, Luxury, Luxury design, Luxury interior, Marriott, Middle east, Mindful, News, Newsletter, Phone, Profile, Profit, Psychology, Residential, Restaurant, Romance, Saigon, School, Signage, Sky, Smartphone, Smartphones, Social media, Social psychology, Sport + Leisure, Studio, Success, Sustainibility, Tech, Technology, Thailand, Trends, Video, Vietnam, W hotel, Wayfinding, Wellbeing, Women