The secrets of lobby design for every hotel budget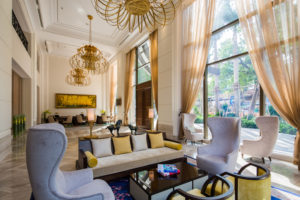 There are expert ways to make 'wow' designs on every budget, and when designing for different market segments, it is important to remember that guest expectations are key. In a five-star hotel, guests expect a theatre of welcome.
The lobby is the entry point to a curated journey. From the luxurious touch points along the way such as valet arrival, to the grand entrance into a large, lovely space. The whole journey should be seamless from check in; to final arrival at the room.
At dwp designed Hotel Des Artes MGallery in Ho Chi Minh, Vietnam, the first design feature to wow guests is the spectacular sense of arrival and place. The design tells the story of Saigon's past, celebrating the romance of travel in a luxurious and romantic boutique hotel lobby. Numerous nuanced design elements and carefully selected art, objects and key furniture pieces add opulence and flavour.
In contrast, when designing for budget offerings, quirky features add a touch of character. The hotel lobby area is more about convenience and efficiency. The lobby is not as pivotal to the hotel. It can be as simple as: 'the place that directs guests from A to B'. Technology like easy mobile check in reduces staff (and costs) and therefore plays a more important role in this type of lobby.
The most diverse lobby design is that of mid-scale hotels. Urban lifestyle hotels require a clever combination of luxury and budget design elements as well as a sense of place. Scott Whittaker Design Director of dwp says: "The Ibis Styles Khaosarn Vientai, is located in one of Bangkok's most iconic tourist areas. dwp designed the vibrant lobby with an all-day dining restaurant and a street-front café. dwp's design creates a contemporary atmosphere, which creates a functional space while blending vintage Thai décor with a modern edge."
Fluid design and adaptability of space are very important for mid-scale hotel lobby design. It needs to be all things to all people with a series of experiences that operate around a 24 hour clock. The lobby space may be required to operate differently throughout the day than at night to maximize the use of space. It works hard serving different functions. It may be used for breakfast, lunch and then for entertainment later in the evening.
With all of these factors in mind, designers set out to create the very best design to fit both the needs of the guest, and profits for the owners. Contact justin.w@dwp.com or scott.w@dwp.com to find out more about incredible hospitality designs that fit every expectation.
Tags: Abu dhabi, Agile workspace, Archi, Architect, Architecture, Artist, Asia, Bangkok, Bar, BIM, Blessing, Blog, Boutique, Business, Civic, Construction, Content, Creativity, Culture, David Clarke, Debate, Design, Designer, Digital, Digital technology, Digital transformation, Digitisation, Drama, Drink, Dubai, Education, Email, Experience, F&B, Food, Future, Health, Healthcare, Hicap, Ho chi minh, Hong kong, Hospital, Hospitality, Hotel, Hotel design, Human, Information, Innovation, Interior, Interior design, Interior designer, Interview, Knowledge, Lebua, Lifestyle, Luxury, Luxury design, Luxury interior, Marriott, Middle east, Mindful, News, Newsletter, Phone, Profile, Profit, Psychology, Residential, Restaurant, Romance, Saigon, School, Signage, Sky, Smartphone, Smartphones, Social media, Social psychology, Sport + Leisure, Studio, Success, Sustainibility, Tech, Technology, Thailand, Trends, Video, Vietnam, W hotel, Wayfinding, Wellbeing, Women