A day in the life of Michael Hegarty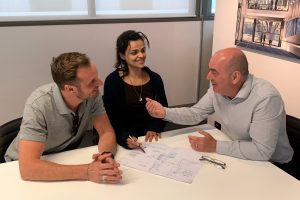 dwp | Australia are excited to welcome Michael Hegarty as their Regional Managing Director. Michael is an Irish award winning architect and acknowledged architecture industry leader in both Australia and the UK. With a passion for everything architecture, Michael is active at state and national levels with both the Australian Institute of Architects and the Association of Consulting Architects, as well as being a member of the South Australia state design review panel since 2012. His architectural work has been published internationally and he was an earlier recipient of the Royal Society for the Arts 'Art and Architecture' Award.
dwp spoke to Michael to find out more about his primary design interests and vision for dwp | Australia…
What does a typical day in the life of Australia's dwp Regional Managing Director look like?
Early starts, powered by coffee! My day usually starts at 4am, often includes travel to the airport, strong coffees, 6am flights to the interstate studio destination, 9am meetings with Studio Directors, and 10am client meetings. The rest of the day roles out from there. Our clients tend to value us if we are hands on practitioners who add value to the clients projects so while my primary responsibility revolves around leading the commercial management of the Australian business I'm simultaneously involved in projects and proposals.
Where did your career in architecture and design start?
I established my own architecture firm in Ireland and the UK in 1997 and grew it by winning larger commissions and delivery of award winning design. When the global banking crisis hit Irish architecture firms were hit hard and like many of my peers I began to travel from one end of the world to the other to continue to work on large design projects.
What are you primary design interests?
My primary design interests include people centred design, place-specific architecture and the participatory potentialities that arise. Well crafted architecture arises from continuity of the design ambition from concept to detailed design to delivery on site, and is shaped by teams of diverse individuals with complementary skills.
In my role at dwp I look forward to working with dwp clients on the design & delivery of projects stretching across urban precincts, airport terminals, hospitals, court buildings, campuses, civic centres, complex facilities and much more.
Do you follow 'rules' or break them?
Firstly, I'm Irish so we generally regard rules more as general guidelines to inform our decisions, rather than rules dictating our decisions. This is often misunderstood by others as being a disregard for rules, when in fact it is an affirmation of personal responsibility for all of the decisions we make – the rules are always a guide to make each choice an informed decision.
Where do you see the future of design for dwp | Australia?
We are a global design practice and therefore we need to set our sights on designing and delivering projects of large scale. Large scale projects tend to have higher degrees of complexities that require specialist, sector-specific design skills for which clients are prepared to pay. These large scale projects have work and associated fees that can sustain teams over a number of years.
Our teams will be diverse to achieve design excellence and commercial success and we will embrace and champion our people by celebrating the rich tapestry of life and design quality that we deliver.
What do you hope we can achieve through design?
Collectively we need to create a successful business that sustains our individual lives far into the future, including design, our environment and our finances. Every one of us comes to work to make a living and we all need the business to be successful in order to secure our futures. We need to collectively strive for greatness so that as a business our profits are higher meaning that we have the ability to invest those profits into growing the business further and investing back into our people.
What are some of the key business lessons you have learned over the years?
To paraphrase the champion golfers: "The harder we work, the luckier we get." Basically, growing a practice is about strategic focus and working hard.
Do you feel technology is impacting how we conduct business?
There is a very rapid technological change in the architecture and design industry. Digital design is becoming essential to how we work and this involves significant changes to workflows so that we can share data effectively between architects and other disciplines, as well as between designers, contractors and clients. These changes have been embraced by dwp and in many instances we are at the forefront of the transformation in design practices.
To support this change employees are also required to evolve in the way that they work – to up-skill themselves. Additionally, some clients are very advanced in digital design and others are still in the early stages. There is therefore an element of supporting the latter in the transition and educating them about the benefits to reap the full impact of the digital transformation.
What are the opportunities and challenges of working in a global practice like dwp?
Being part of a connected global network means that there are immense opportunities to collaborate with colleagues from around the world and contribute to projects in other countries. Our teams in Australia have worked on large projects in Dubai, Saudi Arabia, Bangkok, Vietnam and the Philippines in the last couple of years.
dwp has around 400 people globally and a challenge that comes with that is making sure that people are truly engaged and feel part of a single practice, regardless of their physical location. I'm personally interested in how brains work through synapses – the more connected different parts of the brain, the more creative and intuitive people become. We are actively encouraging our people to look out for secondment opportunities around the globe in order to help create more connections and build our creativity and sense of global identity.
What are the biggest issues involved in running a design practice in 2019?
The issues of running an architecture and design practice are always similar – we need to win work, deliver the work well, get paid and reinvest. The challenges around competition haven't changed, but the nature of our competitors has – as practices stratify into larger multidisciplinary and smaller boutique specialists, the middle ground has fallen away.
Additionally, while architects are being required to do more, some practices have responded by under-pricing to win work and then aggressively pursuing variations. At dwp we would like for our clients to understand the real cost and be happy to pay for exceptional service.
We compete against many purely architectural practices and also large multidisciplinary global firms with tens of thousands of staff. A constant focus for us is to demonstrate the benefits and value of the integrated and complementary services we offer at dwp. We will invest in the specialist design skills that help win work and deliver design excellence.
What are your ambitions for the practice? Specifically, can you tell us about anything exciting in the pipeline for dwp | Australia in the near future?
In Australia we will begin to focus on some key sectors in which our clients operate. This will include sectors like healthcare and hospitality that are part of our global offer. Other sectors include retirement living, sports, science and technology with a specific Australia growth plan.
With a number of key hires, including Laraine Sperling appointed as dwp's strategic director for Australia, I expect to see growth in key markets and improve our geographic reach. We would like to expand into Perth and in due course Auckland as part of our continued growth and ongoing diversification. We have also just established a brand new office in South Australia! We're delighted to announce that we have recently opened in Adelaide, the studio will operate as part of our Melbourne Studio. This represents something of a homecoming for dwp, with both the founders of the practice and our CEO hailing from the city that is famed around the world for its festivals and the annual down under cycling race. The city hinterland has some of the finest vineyards in the Southern Hemisphere producing famous wines including Penfolds Grange and Hill of Grace.
Where do you see the business in the next five years?
In five years time we will have become truly global and due to our broader geographic reach we will operate as a 24 hour business delivering design excellence to our clients around the clock. I predict the dwp team will grow by at least 50% to support this and the pipeline of design opportunities ahead of us.
This is the most exciting time to be a part of the business as we can now all help to shape the next stage of growth for dwp. Hard work, design excellence, happy people, financial rewards, diversity and personal growth will be our strengths.
For further information or to speak to Michael about his new role at dwp contact michael.h@dwp.com.
Tags: Abu dhabi, Agile workspace, Archi, Architect, Architecture, Artist, Asia, Bangkok, Bar, BIM, Blessing, Blog, Boutique, Business, Civic, Construction, Content, Creativity, Culture, David Clarke, Debate, Design, Designer, Digital, Digital technology, Digital transformation, Digitisation, Drama, Drink, Dubai, Education, Email, Experience, F&B, Food, Future, Health, Healthcare, Hicap, Ho chi minh, Hong kong, Hospital, Hospitality, Hotel, Hotel design, Human, Information, Innovation, Interior, Interior design, Interior designer, Interview, Knowledge, Lebua, Lifestyle, Luxury, Luxury design, Luxury interior, Marriott, Middle east, Mindful, News, Newsletter, Phone, Profile, Profit, Psychology, Residential, Restaurant, Romance, Saigon, School, Signage, Sky, Smartphone, Smartphones, Social media, Social psychology, Sport + Leisure, Studio, Success, Sustainibility, Tech, Technology, Thailand, Trends, Video, Vietnam, W hotel, Wayfinding, Wellbeing, Women