A day in the life of Cameron Martin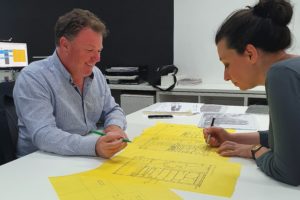 Cameron is based in our dwp Sydney studio and is responsible for the successful management of dwp Clients' projects, across both design and delivery. Cameron brings over 20 years of international experience in the design and administration of complex projects across the commercial, health, education, industrial and retail sectors. 
What does a day in the life of Cameron Martin look like? 
My day usually starts with an uplifting 10km walk around Watson's Bay, one of the most beautiful parts of Sydney Harbour with stunning views. I find this puts me in a great frame of mind to start the day!
Once I arrive at the office my day starts with a review and team briefing of the status of all on-going projects. Every day is different and that's what I love. On an average day, I can cover anything from architecture and design to business development and marketing, as well as project meetings and management.
What do you love about what you do?
I am a people person and I love the challenge of meeting new people and getting the best out of the people I know and work with. 
What are your guiding principles?
Honesty, integrity, professionalism, drive and happiness. If you can manage those well then I believe everything you do will be successful.
How do you summarise what is great about your role?
Creating new places in association with our clients, consultant teams and the great people across all dwp offices to provide successful outcomes.
What inspires you?
Creating and completing projects to the best of mine and my team's ability.
What do you perceive to be the culture of dwp and why does that resonate with you?
As I mentioned above, some of my guiding principles are honesty, integrity and professionalism. Being part of a global practice that operates within a culture of transparency and continually strives to push boundaries in design, professionalism and digital innovation, resonates deeply with me.
Where do you see the future of design in Australia heading for dwp? 
We are actively moving to a place where digital marries design and dwp is at the forefront of harnessing those opportunities and bringing them to our client's projects.
What do you hope we can achieve through design?
At dwp we seek to enhance and enrich people's lives through design excellence.
Do you follow 'rules' or break them?
I use rules as a means of challenging the rule makers!
What advice would you give to your younger self?
To embrace every opportunity and take on all challenges. In fact, as a wee Scottish boy living in Sydney working with an international practice like dwp, that is exactly what I have done! 
For further information or to speak to Cameron about his new role contact cameron.m@dwp.com. 
Tags: Abu dhabi, Agile workspace, Archi, Architect, Architecture, Artist, Asia, Bangkok, Bar, BIM, Blessing, Blog, Boutique, Business, Civic, Construction, Content, Creativity, Culture, David Clarke, Debate, Design, Designer, Digital, Digital technology, Digital transformation, Digitisation, Drama, Drink, Dubai, Education, Email, Experience, F&B, Food, Future, Health, Healthcare, Hicap, Ho chi minh, Hong kong, Hospital, Hospitality, Hotel, Hotel design, Human, Information, Innovation, Interior, Interior design, Interior designer, Interview, Knowledge, Lebua, Lifestyle, Luxury, Luxury design, Luxury interior, Marriott, Middle east, Mindful, News, Newsletter, Phone, Profile, Profit, Psychology, Residential, Restaurant, Romance, Saigon, School, Signage, Sky, Smartphone, Smartphones, Social media, Social psychology, Sport + Leisure, Studio, Success, Sustainibility, Tech, Technology, Thailand, Trends, Video, Vietnam, W hotel, Wayfinding, Wellbeing, Women